These Caramelized Onion and Quinoa Stuffed Mushrooms make for a great party appetizer. Whether you're hosting a Kentucky Derby party or watching the Mayweather-Pacquiao fight, you can't go wrong with these delicious tiny bites!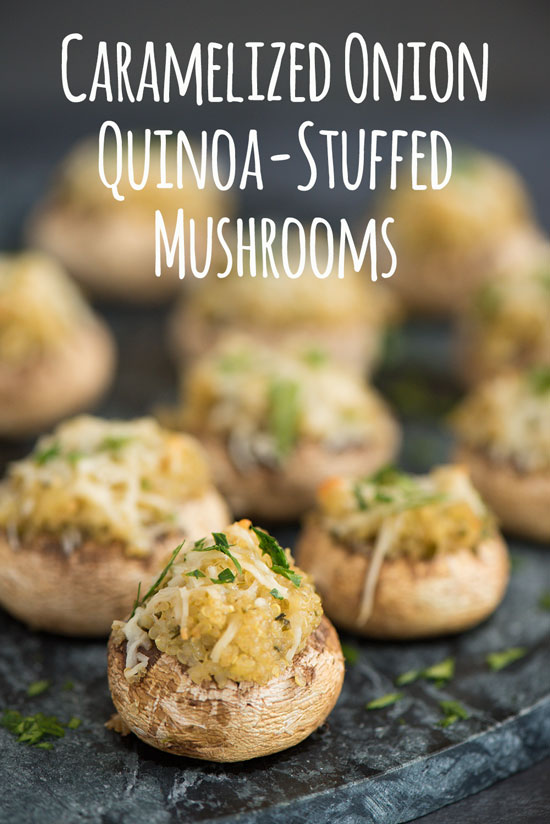 Makes: 10 stuffed mushrooms
Prep Time: 15 minutes
Cook Time: 25 minutes
Ingredients:
1/4 cup quinoa
1 tablespoon extra virgin olive oil
1/2 cup finely chopped white onion
Pinch of granulated sugar
1/2 teaspoon finely chopped fresh rosemary
3 tablespoons finely chopped fresh parsley, divided
1/4 cup plus 2 tablespoons shredded Parmesan cheese, divided
10 medium button mushrooms, stems removed
Directions:
1. Preheat oven to 350 degrees F. Prepare quinoa according to package directions.
2. Meanwhile, in medium saucepot, heat oil over medium heat. Add onion and sugar; cook 10 to 12 minutes or until golden brown, stirring occasionally. Stir in rosemary; cook 1 minute, stirring constantly.
3. Remove onions from heat; stir in 2 tablespoons parsley, 1/4 cup cheese and cooked quinoa.
4. Place mushrooms on rimmed baking pan. Divide quinoa mixture between mushroom caps, using small spoon to gently press mixture inside mushrooms. Sprinkle with remaining 2 tablespoons Parmesan cheese. Transfer to oven and bake 10 minutes or until topping is golden brown and mushrooms are tender. Sprinkle with remaining 1 tablespoon parsley and serve immediately.
Get more healthy ideas and delicious snacks by joining NatureBox. 
Lori Yates is a Detroit-area food writer and recipe developer. She is the author of Foxes Love Lemons, where she posts special yet simple original recipes, tips from her culinary school adventures and restaurant reviews. Her mission is to encourage people to enjoy the act of cooking at home. You can follow her on Facebook and Twitter @foxeslovelemons.