Looking for a fun new salad to add to your healthy eating arsenal? Try this super crunchy, totally refreshing salad with our Roasted Sea Salt Chickpeas, tart raisins, and spiralized carrots for a fresh and raw take on noodles.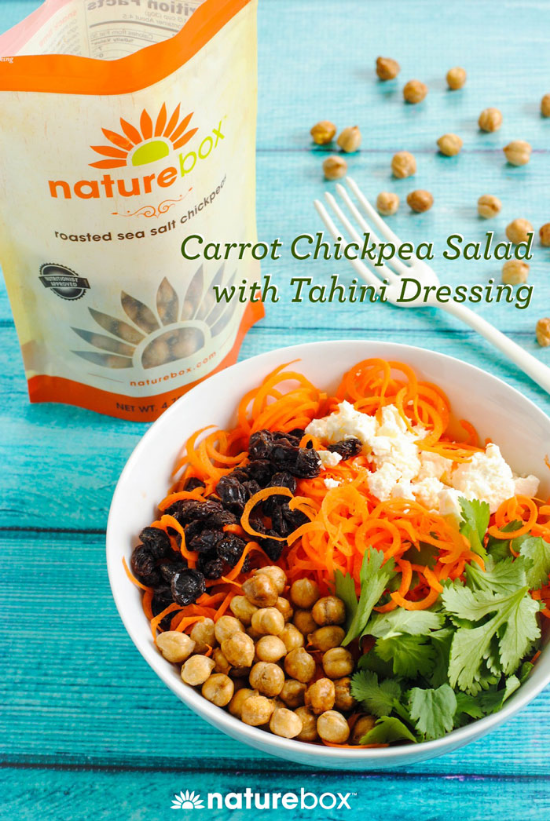 Serves: 4
Prep time: 15 minutes
Ingredients:
For the Tahini-Lemon Dressing:
2 tablespoons tahini
Juice of 1 lemon
1/4 cup extra virgin olive oil
For the Salads:
8 medium carrots, peeled and spiralized or julienned
1/2 cup crumbled feta cheese
1/2 cup fresh cilantro leaves
1/4 cup raisins
Directions:
1. Make the Tahini-Lemon Dressing: In small bowl, whisk together tahini and lemon juice. While whisking, slowly drizzle in oil until all oil is incorporated.
2. Make the Salads: Divide carrots between 4 salad plates or bowls. Top with cheese, cilantro, chickpeas and raisins; serve with Tahini-Lemon Dressing.
Still hungry? Try our other salad jar recipes!
Pics or it didn't happen! When you whip up this recipe, post it on Instagram or Facebook with the hashtag #natureboxrecipe so we can like and reshare it!
Get more healthy ideas and delicious snacks by joining NatureBox. Sign up today to get 50% off your first box!