Carrot and orange juice alone is sweeter than one might think. Cut through that cloying flavor with the added zing of fresh ginger!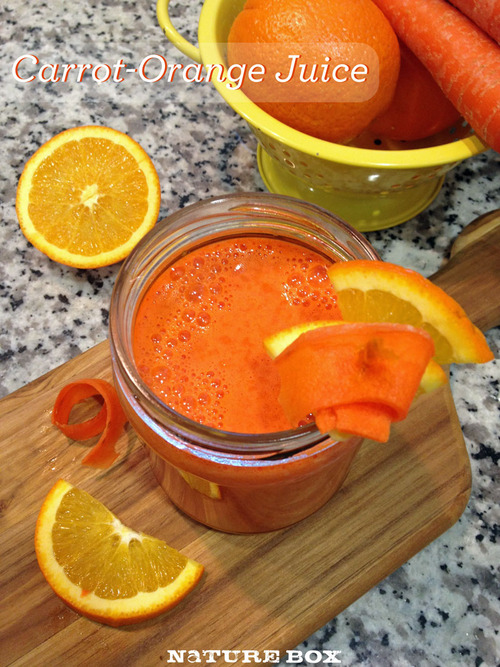 Serves: 4 (yields about 40 ounces)
Prep time: about 1 hour
Ingredients:
3 pounds organic carrots, washed
2 pounds organic oranges
2-3 slices organic ginger
Directions:
1. Cut carrots: cut the carrots into sticks that are most manageable for your juicer; likely, they should be no longer than 2 inches and no wider than 1/2 inch. (Since you're using organic carrots, you won't need to peel them.)
2. Cut oranges and ginger: Peel the oranges and cut into chunks that are most manageable for your juicer; each orange will likely be cut into 6 chunks. Slice 2-3 slivers of ginger.
3. Make juice! Juice the carrots, oranges and ginger according to your juicer's instructions. Be sure to alternate every couple of carrot sticks for a few orange chunks and ginger slivers. Serve immediately.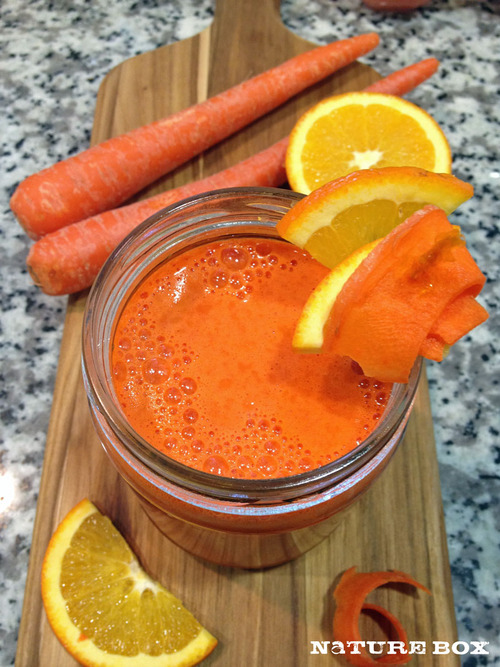 Storage tip: Store in mason jars 8-24 hours to have each serving already portioned out. Plus, it's easier to clean the juice residue off glass rather than plastic.
Get more healthy ideas and delicious snacks by joining NatureBox. Sign up today to get 50% off your first box!
Amanda really wants to help you cook delicious foods and sustain a healthier lifestyle. When she's not goofing around on Twitter she's probably noshing on the pile of NatureBox snacks at her desk.