Whether you're planning a brunch at home or breakfast on the go, these Cherry Oatmeal Muffins using our Dried Cherries are sure to satisfy.
Pro tip: freeze a batch of these to increase their shelf life, and let them thaw about 6 hours before serving!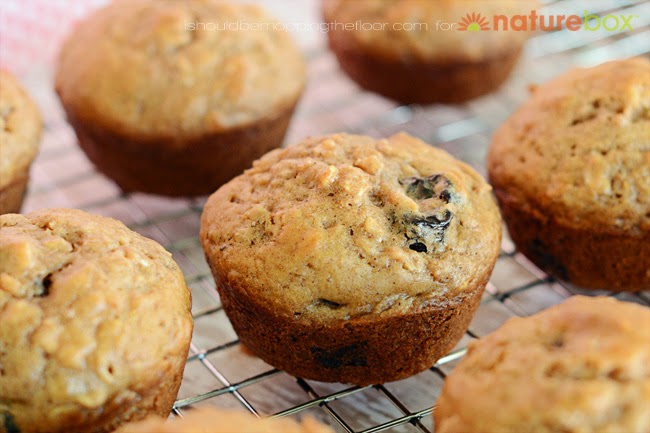 Makes: about 12 muffins
Prep time: 20 minutes
Bake time: 15-18 minutes
Ingredients:
1 cup old-fashioned oats (not instant)
3/4 cup NatureBox Dried Cherries
1/2 cup packed brown sugar
1/2 teaspoon salt
1/2 teaspoon cinnamon
1/2 teaspoon allspice
1-3/4 cup whole milk
2 eggs, lightly beaten
1 teaspoon almond extract
1/4 cup coconut oil (liquified)
1 cup all-purpose flour
1 teaspoon baking soda
1 teaspoon baking powder
1/2 teaspoon salt
Directions:
1. Prepare a muffin tin with cooking spray or liners (I prefer to use spray since liners can stick after I freeze the muffins). Preheat your oven to 350.
2. Combine the old-fashioned oats, dried cherries, brown sugar, cinnamon and allspice in a saucepan over medium heat. Stir together until mixture starts to boil and cook oatmeal for 5 minutes, until thick. Turn off heat and allow to cool for about 20 minutes.
3. Pour cooled oatmeal into a large bowl and slowly add in your eggs (as not to scramble them from the heat of the oatmeal). Beat eggs into oatmeal and add vanilla and coconut oil. Beat with a mixer until combined.
4. In a separate, smaller bowl, sift together the flour, baking soda, baking powder, and salt. Fold the dry mixture into the wet mixture, until just combined. Don't over-mix.
5. Spoon your batter into 12 muffin cups, filling them 2/3 full. Bake for 15-18 minutes, checking for doneness. Cool completely.
6. Can transfer to the freezer after cooled. Freeze on a cookie sheet for two hours. After frozen, put muffins into a gallon-sized zip-top bag to store in the freezer for up to three months.
Got a sweet tooth? Try our other tasty dessert ideas!
Get more healthy ideas and delicious snacks by joining NatureBox. Sign up today to kick off your membership with a free trial!