Looking for something on the lighter side after Thanksgiving weekend? Try these fun-sized chicken avocado wonton cups brightened up with some chopped mango.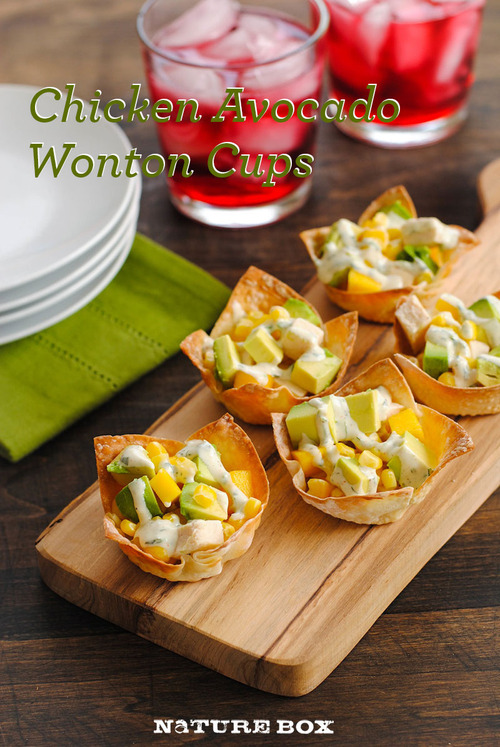 Makes: 20 pieces
Prep time: 20 minutes
Bake time: 8 minutes
Ingredients:
For the Wonton Cups:
Organic nonstick cooking spray
20 (4-1/2-inch square) wonton wrappers
For the Creamy Herb Sauce:
2 tablespoons low-fat mayonnaise
2 tablespoons nonfat Greek yogurt
1-1/2 tablespoons buttermilk
2 teaspoons finely chopped fresh parsley
1 teaspoon finely chopped fresh dill
1/4 teaspoon minced garlic
1/8 teaspoon ground black pepper
1/8 teaspoon kosher salt
1/8 teaspoon paprika
For the Filling:
1 ripe avocado, peeled, pitted and diced
1 cooked chicken breast, chopped
1 mango, peeled, pitted and diced
1/2 cup corn kernels
Directions:
1. Preheat oven to 350 degrees F. Spray 2 standard muffin tins with cooking spray. Press wonton wrappers into muffin cups, taking care to press against bottom and sides of cups. Lightly spray wrappers with additional cooking spray.
2. Bake 8 minutes or until golden brown and crisp. Remove wonton cups from muffin pan and transfer to a cooling rack to cool completely before filling.
3. Meanwhile, make the Creamy Herb Sauce: In small bowl, stir together all ingredients.
4. Fill wonton cups with layers of avocado, chicken, mango and corn. Drizzle with Creamy Herb Sauce.
Pics or it didn't happen!When you whip up this recipe, post it on Instagram or Facebook with the hashtag #natureboxrecipe so we can like and reshare it!
Get more healthy ideas and delicious snacks by joining NatureBox. Sign up today to get 50% off your first box!
Lori is a Detroit-area food writer, recipe developer and restaurant reviewer. She's usually found in the kitchen cooking up something that undoubtedly involves beets, lemons or coconut for her blog, Foxes Love Lemons. Check out more of her recipes here.