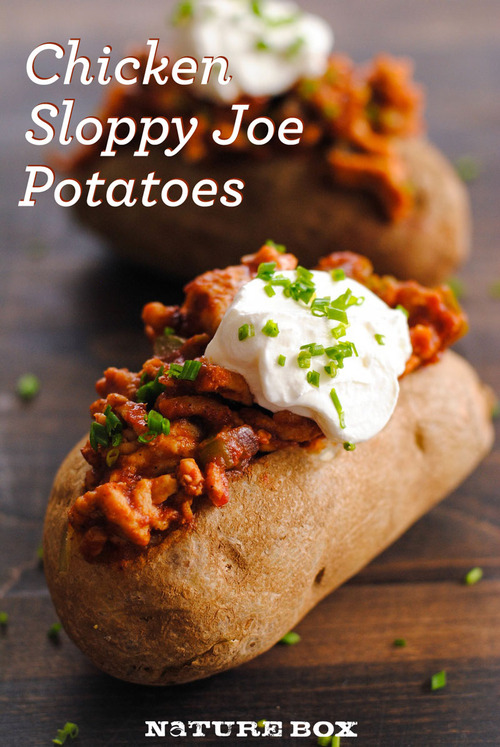 Serves: 4
Prep time: 5 minutes
Cook time: 1 hour
Ingredients:
4 medium russet potatoes, scrubbed
1 pound ground chicken
1/2 green bell pepper, chopped
1/2 small red onion, chopped
1 can (15 ounces) tomato sauce
2 tablespoons tomato paste
1 tablespoon Worcestershire sauce
1-1/2 teaspoons ancho chile powder
1/4 teaspoon ground black pepper
Light sour cream, for garnish
Chopped fresh chives, for garnish
Directions:
1. Preheat oven to 400 degrees F. Add a silicon mat or parchment paper to a baking sheet. Use fork to poke several holes in each potato. Bake potatoes until tender, about 45 minutes.
2. Meanwhile, heat large skillet over medium-high heat. Add chicken, bell pepper and onion; cook 8 to 10 minutes or until chicken is cooked through, breaking up chicken with side of spoon. Reduce heat to medium; add tomato sauce, tomato paste, Worcestershire sauce, chile powder and black pepper. Simmer 3 to 5 minutes or until thickened.
3. Slice off small portion of top of each potato. Use small spoon to scoop out some of potato flesh. Spoon sloppy joe mixture into potatoes (Or, split each potato in half and top with sloppy joe mixture). Serve garnished with sour cream and chives.
Get more healthy ideas and delicious snacks by joining NatureBox. Sign up today to get 50% off your first box!
Lori is a Detroit-area food writer, recipe developer and restaurant reviewer. She's usually found in the kitchen cooking up something that undoubtedly involves beets, lemons or coconut for her blog, Foxes Love Lemons. Check out more of her recipes here.