Looking for the perfect party appetizer or a light yet filling meal? Try these Chickpea Quinoa Cakes! They're baked instead of friend, making for a much healthier take on falafels. Plus, they're made substantial with quinoa.
If you're looking for a vegan version, try using tahini instead of egg. If you're gluten-conscious, you can try nixing the flour and using gluten-free panko-style bread crumbs!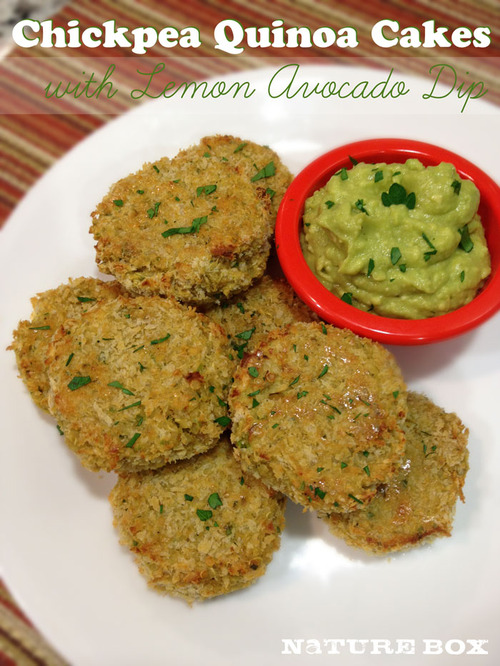 Makes: 12 cakes
Prep time: 25 minutes
Cook time: 20 minutes
Ingredients:
For the Chickpea Quinoa Cakes:
1 10.5-ounce can chickpeas, drained and liquid reserved
4 stalks green onion, chopped
1 garlic clove
1-1/2 cups cooked quinoa
1 egg, beaten (or 3 tablespoons tahini, for vegan substitute)
2 tablespoons whole wheat flour
2 tablespoons chickpea liquid (plus additional, as needed)
1/2 teaspoon smoked paprika
1/2 teaspoon kosher salt
1/4 teaspoon freshly ground black pepper
1/2 cup panko bread crumbs
Finely chopped parsley (optional, for garnish)
For the Lemon Avocado Dip:
1 avocado, halved, seeded and mashed
Juice and zest of 1/2 lemon
1/2 teaspoon kosher salt, or to taste
1 heavy pinch freshly ground black pepper
Directions:
1. Preheat oven to 350 degrees F. In a food processor, pulse together the chickpeas, green onion and garlic until coarsely pureed, about 2 minutes.
2. Transfer chickpea mixture to a medium mixing bowl and stir in qunoa, beaten egg (or tahini), whole wheat flour and chickpea liquiduntil well-combined. The resulting mixture should be moist but not too wet. You may need to add another tablespoon for chickpea liquid. Stir in smoked paprika, salt and pepper.
3. Add the panko bread crumbs to a small plate. Form the chickpea-quinoa mixture into 12 equal-sized balls, about 1-2 inches each. Roll each ball in the bread crumbs and transfer to a parchment or silicon mat-lined baking sheet. Flatten slightly to form 3/4-inch thick discs. Bake in the oven until light golden brown, about 18-20 minutes.
4. While the Chickpea Quinoa Cakes are baking, prepare the Lemon Avocado Dip: In a small bowl, mix together the mashed avocado, lemon juice and zest, salt and pepper. Season, to taste.
5. Serve the cakes warm or at room temperature with a side of dip. Garnish with finely chopped parsley, if desired.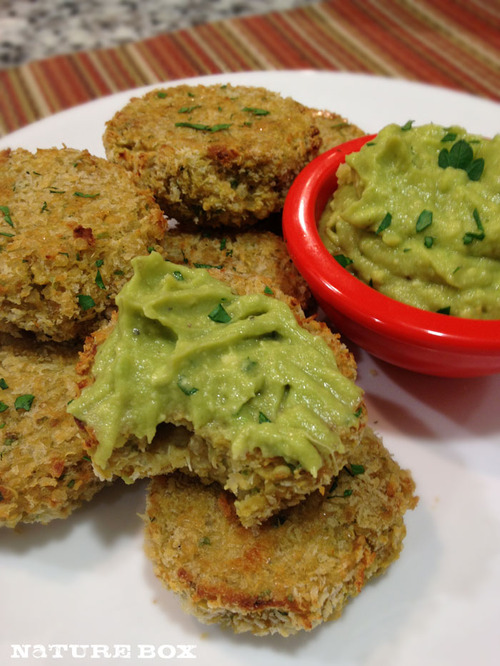 Still hungry? Try our Buffalo Chicken Quinoa Bites!
Get more healthy ideas and delicious snacks by joining NatureBox. Sign up today to get 50% off your first box!
Amanda really wants to help you cook delicious foods and sustain a healthier lifestyle. When she's not goofing around on Twitter she's probably noshing on the pile of NatureBox snacks at her desk.