by Chung-Ah Rhee of Damn Delicious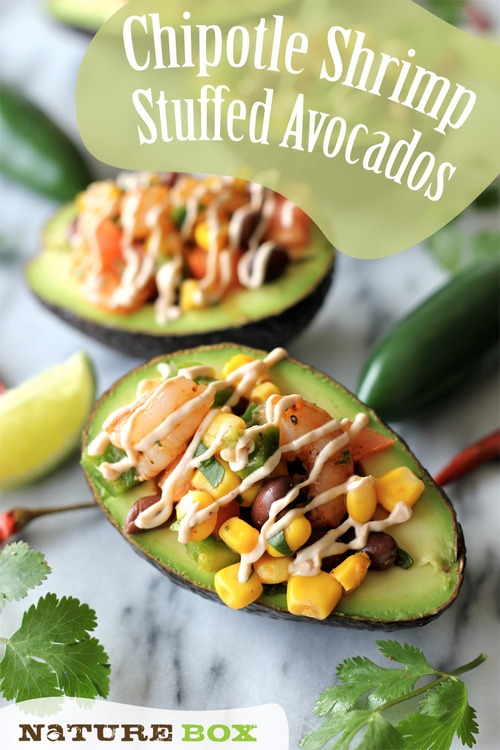 Serves: 8
Cook time: 8 minutes
Ingredients:
8 ounces shrimp, peeled and deveined

1 tablespoon olive oil

1/2 teaspoon kosher salt, or to taste

1/2 teaspoon freshly ground black pepper, or to taste

1/2 cup Greek yogurt

1-3 chipotle peppers in adobo sauce

1/2 cup corn kernels

1/2 cup canned black beans, drained and rinsed

1 jalapeño, minced

1/2 teaspoon chili powder

1/4 teaspoon ground cumin

4 avocados, halved and seeded

3 tablespoons chopped cilantro (optional, for garnish)
Directions:
1. Preheat oven to 400 degrees F. Line a baking sheet with parchment paper.
2. In a large bowl, add the shrimp, olive oil, salt and pepper, and toss gently. Place shrimp onto prepared baking sheet. Place into oven and roast until pink, firm and cooked through, about 6-8 minutes.
3. In a large bowl, combine shrimp, corn, beans, jalapeño, chili powder, cumin, and salt and pepper, to taste. Spoon into avocado halves.
4. In a small bowl, combine Greek yogurt and chipotle pepper. For a smoother consistency, blend in blender or food processor. (Use 1 pepper for medium spiciness.)
5. Serve stuffed avocados with chipotle mayo. Garnish with cilantro, if using.
Get more healthy ideas and delicious snacks by joining NatureBox. Enter coupon code NATURE for 25% off your first month subscription!
Chung-Ah, the author behind Damn Delicious, loves to take simple ingredients and transform them into sophisticated and elegant meals.