These truffles taste rich and creamy – thanks to smooth and velvety avocado, and a touch of honey. Roll them in your topping of choice, such as chopped nuts (we suggest NatureBox Old Fashioned Blister Peanuts!) or shredded coconut. Serve on your prettiest scalloped saucer and a side of freshly brewed tea!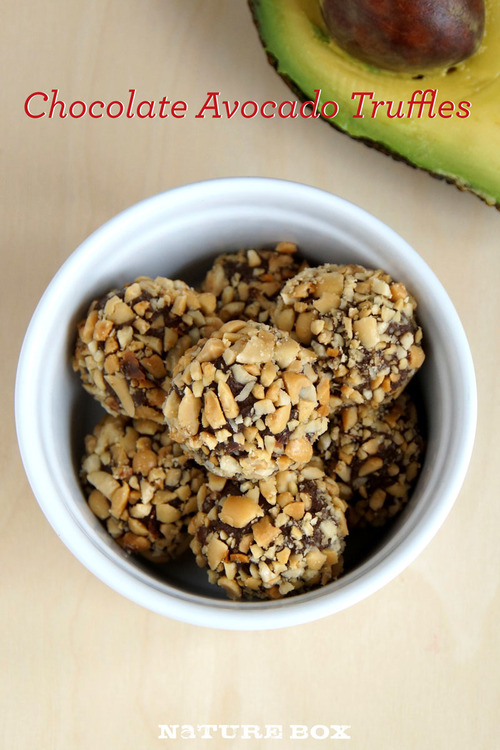 Makes: 8 truffles
Prep time: 15 minutes
Ingredients:
1/2 large avocado
1 tablespoon unsweetened cocoa powder
1 teaspoon honey
1/2 cup semi-sweet chocolate chips
1/2 cup chopped Old Fashioned Blister Peanuts (optional)
1/2 cup shredded coconut (optional)
Directions:
1. Scoop out the avocado into a food processor. Add the cocoa powder and honey and pulse until creamy. Transfer to a mixing bowl.
2. Add the chocolate chips to a microwave safe bowl, then microwave for 30 seconds. Stir the chocolate chips and repeat until melted. Do not heat longer than 30 seconds at a time. Add the avocado mixture to the melted chocolate and stir well. Cover with plastic wrap and chill for 2 hours.
3. Add the chopped peanuts or shredded coconut to a shallow bowl or plate. Use a spoon or small cookie dough scoop to scoop out 1-inch balls, shaping with your hands. Roll each ball in the chopped peanuts until coated, then place on a plate lined with parchment paper. Chill for 1 hour before serving. Keep refrigerated.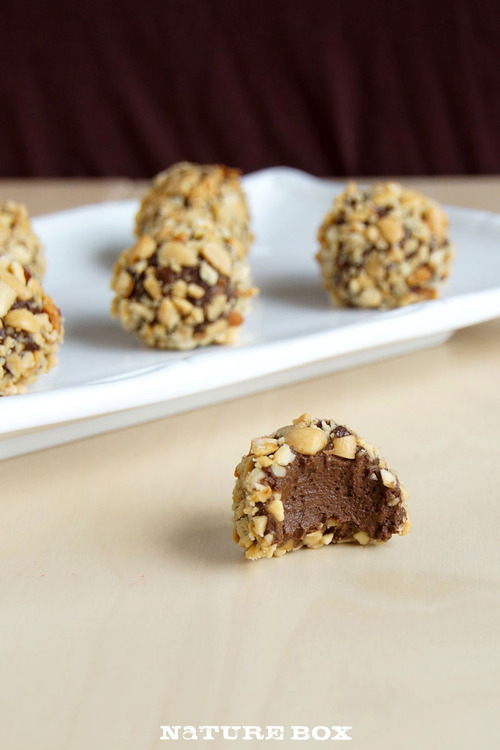 Got a sweet tooth? Try our other sweet treat recipes!
Get more healthy ideas and delicious snacks by joining NatureBox. Sign up today for a free trial!