Recipe by Angie of Little Inspiration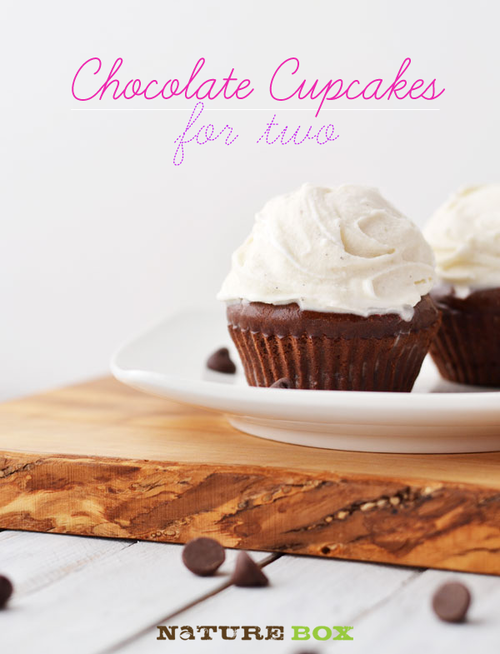 Who doesn't love cupcakes? I do, only I hate making too many cupcakes because there are always leftovers in my house that we don't need to finish. There are some days that I only need two cupcakes but don't wan to make a whole dozen. So I experimented and I'm sharing with you a recipe for two cupcakes only (bonus: they're oil-free!) It's perfect for you and your loved one on Valentine's Day!
Ingredients:
3 TBSP all-purpose flour
2 TBSP sugar
1 TBSP unsweetened cocoa powder
a dash or ⅛ teaspoon teaspoon baking soda
a pinch of salt
a pinch of instant coffee powder (optional)
2 TBSP of melted dark chocolate chips
4 TBSP milk, any kind
1 teaspoon of Greek yogurt
½ teaspoon pure vanilla extract
Frost with your favorite frosting, yogurt, cream cheese or frozen Greek yogurt or ice cream.
Directions:
Pre-heat oven for 350F
In a medium bowl combine all dry ingredients (salt, flour, baking soda, coffee & cocoa)
In another medium bowl combine all wet ingredients (melted chocolate, milk, yogurt, vanilla).
Using a mixer or hand mixer, combine dry ingredients with wet ingredients and mix until well combined for about 2-3 minutes.
Bake for about 20 minutes or until toothpick comes out clean
Let them cool on the baking pan for 7 minutes then frost and serve immediately.
Get more healthy ideas and delicious snacks by joining NatureBox. Enter coupon code NATURE for 25% off your first month subscription!
Angie shares yummy food, easy DIY crafts, adventures of motherhood, and everything in between on her blog, Little Inspiration. Check out more of her healthy and fun recipes here.