by Lori Yates of Foxes Love Lemons
It's National Chocolate Chip Day! You can celebrate while still making smart snacking choices. Here, we used buckwheat flour, cinnamon and our healthy but decadent Chocolate Ginger Bliss. Enjoy!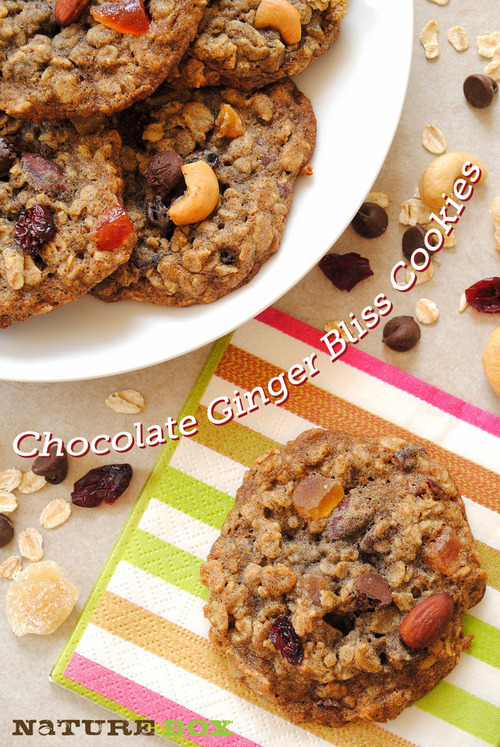 Makes: about 20 cookies
Prep time: 15 minutes
Cook time: 11 minutes
Ingredients:
1-1/2 cups old-fashioned rolled oats
1/2 cup all-purpose flour
1/4 cup buckwheat flour
1/2 teaspoon baking soda
1/2 teaspoon baking powder
1/2 teaspoon ground cinnamon
Pinch of sea salt
1/2 cup unsalted butter, room temperature
3/4 cup light brown sugar
1 egg
1/4 cup agave nectar
1/2 teaspoon vanilla extract
3/4 cup NatureBox Chocolate Ginger Bliss, larger pieces coarsely chopped
Directions:
1. Preheat oven to 350 degrees F. In medium bowl, stir together oats, flours, baking soda, baking powder, cinnamon and salt.
2. In large bowl, with mixer at medium speed, beat butter and brown sugar with until fluffy, scraping bowl occasionally about 1 to 2 minutes. Add egg, agave nectar and vanilla; beat 30 seconds. Add oat mixture; beat until just combined. Fold in Chocolate Ginger Bliss.
3. Drop about 2 tablespoons cookie dough 2 inches apart onto parchment-lined cookie sheets. Bake until edges of cookies are golden brown and centers are slightly soft, about 11 to 12 minutes, rotating cookie sheets halfway through baking. Cool cookies on cookie sheets 5 minutes, then transfer to wire rack.
Check out more of our balanced sweet treats!
Get more healthy ideas and delicious snacks by joining NatureBox. Enter coupon code NATURE for 25% off your first month subscription!
Lori is a Detroit-area food writer, recipe developer and restaurant reviewer. She's usually found in the kitchen cooking up something that undoubtedly involves beets, lemons or coconut for her blog, Foxes Love Lemons. Check out more of her recipes here.