It's always time for a light sweet treat in our book! We added a dash of cocoa to vanilla Greek yogurt along with fresh raspberries and some cocoa waffle wafers. Bonus points for packing them into mason jars – screw the lid tightly and toss them into your cooler for an on-the-go dessert!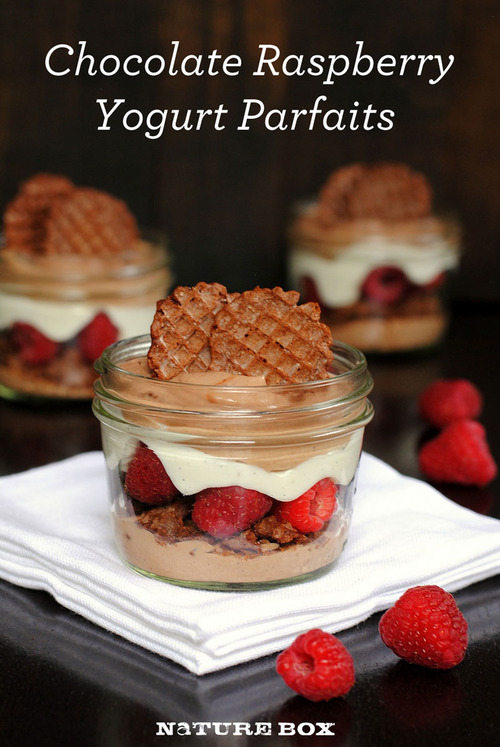 Serves: 4
Prep Time: 10 minutes
Ingredients:
18 ounces nonfat vanilla Greek yogurt
2 tablespoons unsweetened cocoa powder
4 small (1/2-pint) mason jars
16 cocoa waffle wafers, crushed plus additional whole wafers for garnish
5 ounces fresh raspberries
Directions:
1. In small bowl, stir together 12 ounces of yogurt and the 2 tablespoons cocoa powder.
2. Divide half the yogurt/cocoa mixture among jars. Divide crushed wafers over yogurt/cocoa mixture, then divide raspberries over wafers. Divide remaining 6 ounces of vanilla yogurt over raspberries. Top jars with remaining yogurt/cocoa mixture. Serve garnished with additional wafers.
Still hungry? Check out these other healthy party foods.
Get more healthy ideas and delicious snacks by joining NatureBox. Sign up today for a free trial!