Did you know that one quarter of the calories that Americans consume per day comes from snacks? That's why it's important to think of snacks as a fourth meal- a meal that can include nutrition-packed foods to get you through your day, not just a reason or excuse to indulge in whatever most convenient. Many packaged snack foods are highly processed and include added sugar, high doses of salt and artificial ingredients that add up to being nutritional zeros. Planning well-balanced snacks using less processed foods is an important way to help ensure your "fourth meal" fits in with your nutritionally balanced diet.
Make sure your snack is comprised of multiple food groups for satisfaction and a nutrition boost. Pair sources of protein or heart healthy fat (such as nuts, low-fat dairy, or lean meats) with a high-fiber carbohydrate source (such as whole grain crackers or fruit) for snacks with real staying power.
Get creative, especially if you're making snacks for children. Fun shapes, made up names, or "do-it-yourself" assembled snacks make snack-time fun for children of all ages as they feel they will have a role in putting together their mini-meals.
Make sure you regularly include fun foods you crave! All foods can fit in a healthy diet, and when we enjoy them in moderation, we don't feel deprived.
Here are some specific examples of snacks that contain multiple food groups and will fuel you up until your next meal: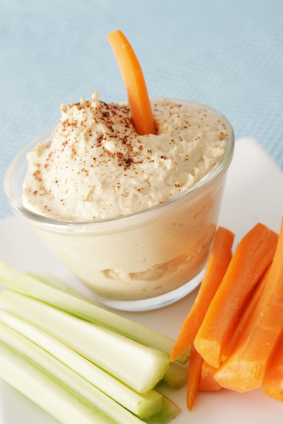 1 oz of low-fat cheese and a piece of fruit (instead of juice, try to eat the fruit in its whole, natural state for the most nutrients)
Whole grain English muffin and 1 oz of low-fat cheese
"Ants on a Log"- celery sticks filled with peanut butter (or sunflower butter if you have nut allergies) and raisins or dried cranberries
One serving size of low-sugar granola and low-fat Greek yogurt
Half of a nut butter sandwich made on whole grain bread
Hummus and veggie sticks
Trail mix with your favorite nuts, dried fruit or breakfast cereal
One whole grain waffle with spreads such as nut butter or jam – get creative with your toppings!
Air popped popcorn sprinkled with Parmesan cheese (don't pick the kind that says "BUTTER" on it!)
Energy bar with at least 4 grams protein and 3 or more grams fiber
Whole grain mini bagel with low-fat cream cheese and dried fruit
Hard boiled egg with whole wheat crackers
Low-fat Greek yogurt with a sprinkle of nuts and a drizzle honey

If your snack falls after dinner around dessert time, allow yourself a treat or sweet food and pair it with a glass of low-fat milk for satisfaction and satiety.
Get more healthy ideas and delicious snacks by joining NatureBox. Enter coupon code JANPROMO for 50% off your first month subscription!
Kat Brown MS RD RYT is a San Francisco Bay Area based Registered Dietitian and Yoga Teacher. As a nutrition counselor, writer, cook, and yogini she seeks to inspire others to nourish themselves and live balanced, fulfilled lives.