Traditional Apple Strudel has an added oomph from our Cinnamon Spiced Almonds. For a relaxing day in the kitchen, make it as a sweet treat for your loved ones! Serve with freshly brewed tea or coffee..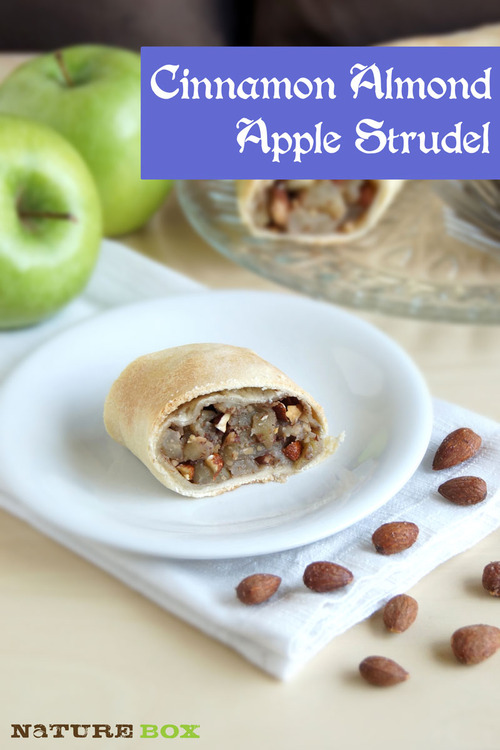 Serves: 6
Prep time: 45 minutes
Cook time: 25 minutes
Ingredients:
For the dough:
1 cup all-purpose flour
3 tablespoons vegetable oil
1/4 teaspoon salt
1 teaspoon granulated sugar
5 tablespoons cold water
1 tablespoon butter, melted
For the filling:
Directions:
1. Add flour, oil, granulated sugar and salt to a stand mixer and mix on low with a paddle attachment. Add water as needed, 1 tablespoon at a time while mixing. The dough should pull away from the sides of the bowl.
2. Switch to a hook attachment and knead for 5 minutes. (Alternatively, you can also knead the dough by hand for 10 minutes.) Remove and knead by hand on a floured surface for 2 minutes. Gather dough into a ball and wrap with plastic wrap. Let rest 30 minutes at room temperature.
3. While dough is resting, chop the apples and mix together with the brown sugar and spices in a mixing bowl. Set aside.
4. Preheat oven to 425 degrees F. Once dough is set, roll out onto a large floured cutting board as thin as possible into a rectangle.
5. Making sure the horizontal side is facing you, add the apple filling to the bottom one-third of the rectangle.
6. Sprinkle the almonds on top, then tightly roll the filling up, rolling away from your body. Seal by rubbing water into the dough crease. Form into a crescent shape and place onto an ungreased baking sheet. Brush the top with melted butter.
7. Bake for 25 minutes, then remove from the oven and cool for 10 minutes before cutting and serving.
Got a sweet tooth? Try our other sweet treat recipes!
Get more healthy ideas and delicious snacks by joining NatureBox. Enter coupon code NATURE for 25% off your first month subscription!
Kristianne is the founder of My San Francisco Kitchen, where she shares everyday recipes that focus on cooking/baking from scratch.