Add this to your arsenal of lazy day recipes. (Bonus points for this being vegan and gluten-free.)
Coconut milk, kale and red bell pepper (or two of your favorite brightly colored veggies), brown rice noodles and lots of curry powder. That's pretty much all you need. Throw it all together and let it simmer to comforting yumminess.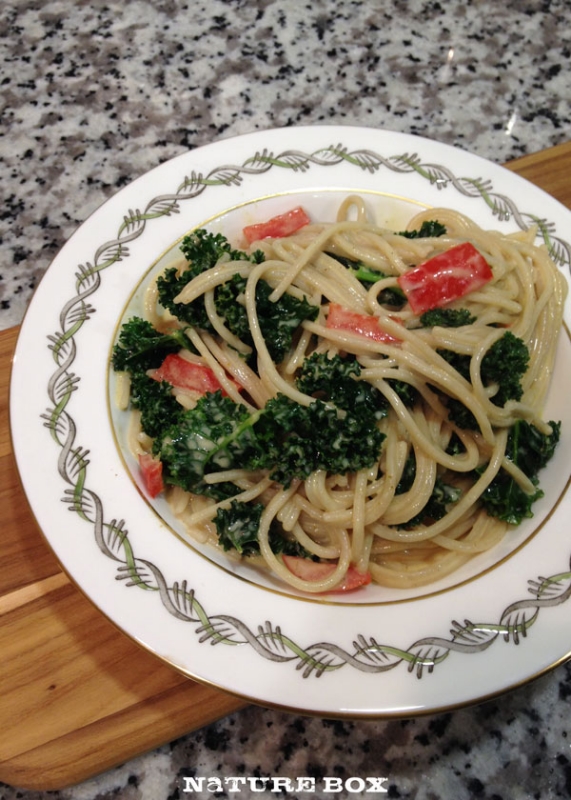 Serves: 4
Prep time: 10 minutes
Cook time: 15-20 minutes
Ingredients:
1 package brown rice spaghetti
1-2 tablespoons olive oil
1 red bell pepper, chopped
1-1/2 cups roughly chopped kale (from about 1/2 bunch)
2 tablespoons curry powder
1 teaspoon kosher salt
1/2 teaspoon freshly ground black pepper
1 15-ounce can coconut milk
Directions:
1. In a large pot, bring water to a boil. Add spaghetti and cook until al dente, or according to the package instructions. When done, reserve about 1 cup of the water, drain the noodles and set aside.
2. In a large saute pan over medium heat, heat oil. Add red bell pepper and kale, cooking until the kale wilts, about 5 minutes. Stir in curry powder, salt and pepper.
3. Stir in coconut milk and let simmer about 10-15 minutes. If desired, thin out the curry sauce slightly with reserved pasta water. Stir in spaghetti and serve.
Get more healthy ideas and delicious snacks by joining NatureBox. Sign up today to get 50% off your first box!