by Tsz Chan of Gastrophoria
Looking for a way to boost the protein in your breakfast intake? With whole wheat flour, vanilla protein powder, cinnamon granola, coconut and just a few pinches of sugar, this recipe is totally balanced without depriving you of indulgent flavor.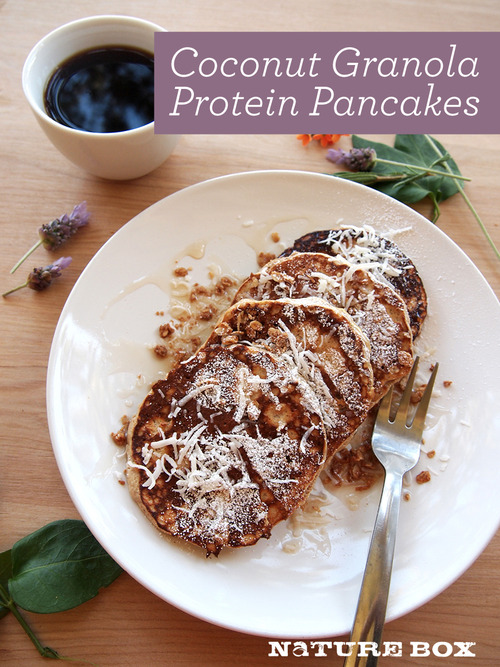 Serves: 2 (makes about 6 pancakes)
Prep time: 5 minutes
Cook time: about 10 minutes
Ingredients:
1/2 cup whole wheat flour

3 tablespoons vanilla protein powder

1 tablespoon sugar

1 teaspoon baking powder

1/4 cup shredded coconut

1 egg

3/4 cup coconut milk

1 pinch salt

About 2 tablespoons canola oil
Directions:
1. In a large mixing bowl, whisk all the ingredients — except the canola oil — together. Be careful not to over mix; a few small lumps is fine. Transfer to a 2-cup measuring cup for easy pouring. 
2. Heat a non-stick pan over medium heat. Oil the pan with a paper towel when heated. 
3. Pour 3-4 tablespoons of batter into the pan. Flip when bubbles form on the surface, about 1-2 minutes. Cook until golden brown, about 2 more minutes.
4. Oil the pan and repeat with the rest of the batter. Serve with maple syrup and extra coconut and granola sprinkled on top.
Get more healthy ideas and delicious snacks by joining NatureBox. Enter coupon code NATURE for 25% off your first month subscription!
A devout student of flavor, Tsz documents her food adventures at Gastrophoria. In the rare moments she's not planning her next meal, she grows businesses through unique design solutions