We love good ol' fashioned chickpea hummus but sometimes it's fun to change up the routine by adding different spices and herbs. We added some dried basil and dill to give it a country ranch kick.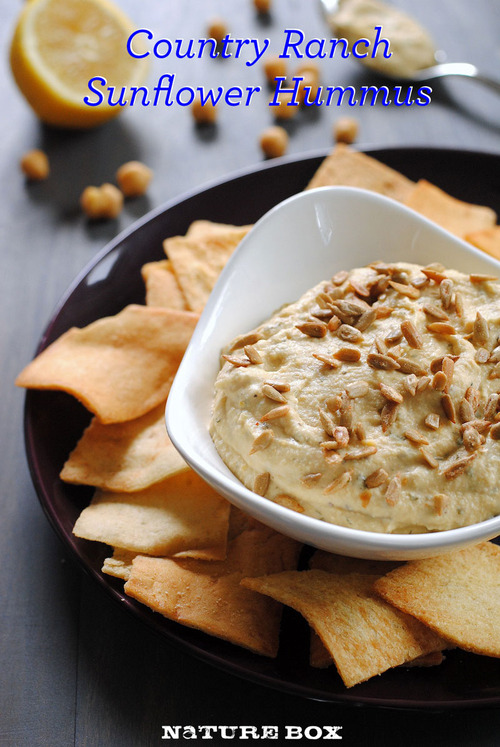 Makes: about 1-1/2 cups
Prep time: 5 minutes
Ingredients:
Juice of 1 lemon
1 (15.5 ounce) can chickpeas, drained (reserve 6 Tablespoons liquid from can)
1/4 cup tahini
1 teaspoon dried parsley
1/2 teaspoon dried basil
1/4 teaspoon dried dill
1/4 teaspoon garlic powder
1/4 teaspoon onion powder
1/8 teaspoon kosher salt
1/8 teaspoon ground black pepper
2 tablespoons ice water, plus additional if needed
NatureBox Country Ranch Sunflower Kernels, for garnish
Directions:
1.  In blender or food processor, place lemon juice, chickpeas and their liquid, tahini, and herbs and spices. Blend 1 minute or until very well combined. With blender running, drizzle in ice water. If a thinner consistency is desired, blend in additional water, 1 tablespoon at a time, until desired consistency is reached. Garnish with NatureBox Country Ranch Sunflower Kernels.
Get more healthy ideas and delicious snacks by joining NatureBox. 
Lori is a Detroit-area food writer, recipe developer and restaurant reviewer. She's usually found in the kitchen cooking up something that undoubtedly involves beets, lemons or coconut for her blog, Foxes Love Lemons.