What better way to use Meyer lemons than in a comforting, vibrant pasta sauce filled with veggies and creamy goat cheese?
Serves: 4
Ingredients:
1 pound asparagus, trimmed
Olive oil
Kosher salt and freshly ground black pepper, to taste
8 ounces penne pasta
2 tablespoons unsalted butter
2 cloves garlic, minced
2 tablespoons flour
1 cup reduced fat milk
1/4 cup freshly squeezed Meyer lemon juice (from about 2 Meyer lemons)
Zest of 1 Meyer lemon
1/3 cup julienned sun dried tomatoes
1/3 cup crumbled goat cheese
Walnuts, toasted, for serving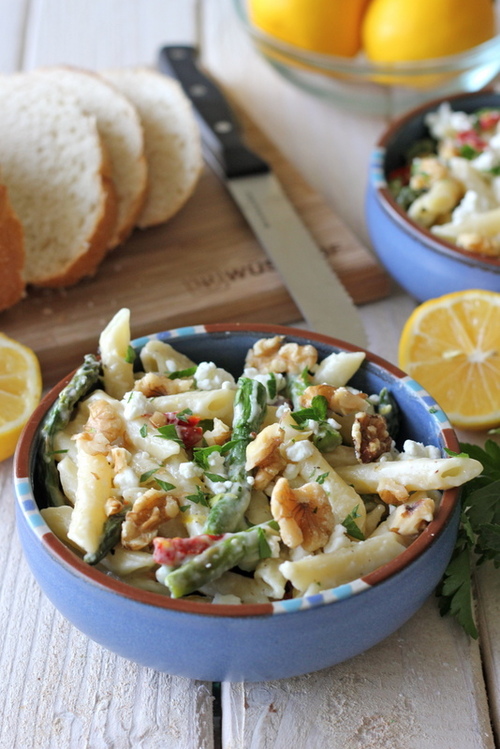 Directions:
1.Preheat oven to 450 degrees F. Place asparagus in a single layer onto a parchment-lined baking sheet. Drizzle with olive oil, salt and pepper, to taste. Gently toss to combine.
2. Place into the oven and roast until tender but crisp, about 10 minutes. Let cool before cutting into 1-inch pieces.
3. In a large pot of boiling salted water, cook pasta according to package instructions. Drain and set aside.
4. To make the sauce, melt butter in a medium saucepan. Add garlic and cook until fragrant, about 1-2 minutes. Whisk in the flour until lightly browned, about 1 minute. Gradually whisk in the milk and Meyer lemon juice. Cook, whisking constantly, until thickened, about 2-3 minutes. Stir in the Meyer lemon zest.
5. In a large bowl, combine pasta, Meyer lemon sauce, asparagus, sun dried tomatoes and goat cheese. Serve immediately, garnished with walnuts, if desired.
Pics or it didn't happen! When you whip up this recipe, post it on Instagram or Facebook with the hashtag #natureboxrecipe so we can like and reshare it!
Get more healthy ideas and delicious snacks by joining NatureBox. Sign up today to get 50% off your first box!