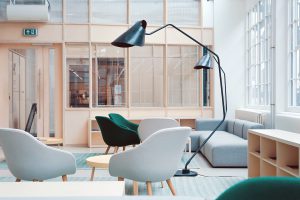 Is employee wellbeing your top priority for 2021? According to Gallup, you can't afford for it not to be. 
Companies that prioritize the wellbeing and mental health of their teams led to the creation (and expansion) of employee wellness programs for businesses big and small. This major trend in work for 2021 comes as no surprise when you acknowledge the prevalence of burnout in our modern society. 
Especially with remote work making employee engagement and office perks more difficult to manage, knowledge of how to develop an effective employee wellness program is top of the list for office managers and executive assistants around the world.
If it's your job to develop a plan to keep your teams healthy, engaged, motivated, you're in the right place. Here are 4 steps to create an employee wellness program with outcomes that benefit your team, you, and your company.
1. Understand the needs of your employees
Before you're ready to develop a comprehensive wellness program, you need to have an understanding of your employees and their needs. Here are a few things to keep in mind.
Convenience is key
The marker of an effective wellness program in 2021 is that the offerings are available virtually or on-site (if you're back in the office). The days of gym memberships or free fitness classes during lunch are over. Now, "from the comfort of your home" takes on a whole new meaning.
Aim to take the stress off their plate
An employee wellness program is designed to promote better health and relieve stress, not add to it. The advice here is to prioritize low-cost offerings. Health and wellness should be accessible for everyone, no matter their financial situation.
Involve them from the beginning 
Interested in working with outside vendors or developing a partnership with a specific organization? Ask your employees who they want to support. They're more inclined to participate when they feel they have a voice. Ultimately, it's your decision what goes into the program, but it needs to be created through the lens of your team. It's for them, after all.
2. Encourage your team and fellow leaders to get on board
Your work as a leader doesn't stop with delegating tasks or motivating your team. You have major influence over whether your employees support and are motivated to participate in the wellness program you roll out. 
This is your moment to lead by example. A company culture of health and wellness isn't created through brute force or free fitness classes. It's created over time by leaders like you showing up and taking charge of their own wellbeing. It's also created through consistent messaging and communication from leaders at all levels. In the end, everyone in the company has a responsibility to encourage each other to take charge of their health.
If this shift toward wellness is new, remember that culture takes time to develop. Show up for yourself as the leader your team is looking toward to set the example. You have more power to persuade than you may think.
3. Create a wellness program based on best practices
Your wellness program should align with your brand and be a natural extension of your company's mission while also taking research and best practices into account. 
According to a study for Harvard Business Review, there are six pillars of an effective employee wellness program.
Multilevel Leadership

Alignment

Scope, Relevance, and Quality

Accessibility

Partnerships

Communications
We discussed five of the six pillars in the first two steps. To finish with the third pillar (scope, relevance, and quality), let's start with an example. 
A typical wellness perk you could expect at your office in the past was healthy snacks. Now, healthy snacks to fuel your hungry team takes on a whole new meeting in the remote work environment. Leaders like you have to get creative when it comes to developing modern wellness programs intent on keeping your team engaged and healthy while they work remotely. 
According to Gallup, your employee wellness program "must be comprehensive, engaging, and just plain excellent. Otherwise, employees won't participate." Another part of this? The program has to strategically address specific needs. Baseless perks aren't helpful and can be a massive waste of money and resources.
4. Assess the results, both tangible and intangible, and make changes as needed
There are a variety of outcomes you can experience when you develop a well-rounded employee wellness program. A few to start with are:
Lower costs

Greater productivity

Higher morale
The statistics on health care savings alone are enough to make you pause all your priorities and begin building a wellness program for your employees. Additionally, you experience lower turnover, fewer sick days, and better performance from your team. 
The intangible, yet still important results? Employee pride, trust, and commitment increase, which are all vital attributes of a healthy, thriving company.
Positive outcomes are the result of listening to the needs of your employees, encouraging a shift toward wellness as a company by leading by example, and following best practices based on decades of research. 
Put it all together and you have the recipe to create an employee wellness program that puts your team first (and actually works).