by Brandi Koskie of DietsInReview.com
Photos and recipe by Dana Shultz of DietsInReview.com
Your upcoming summer is about to get more refreshing than you thought possible. As we prepare for Memorial Day, the unofficial kick-off to the sunny season, we wanted to make sure thirsts were quenched without a lot of over-sweetened, processed junk drinks (ahem, soda). And while we love making salsa, guacamole, and even homemade frozen sangria a part of all of our summer plans, something simpler and more hydrating is a must.
Meet the agua fresca!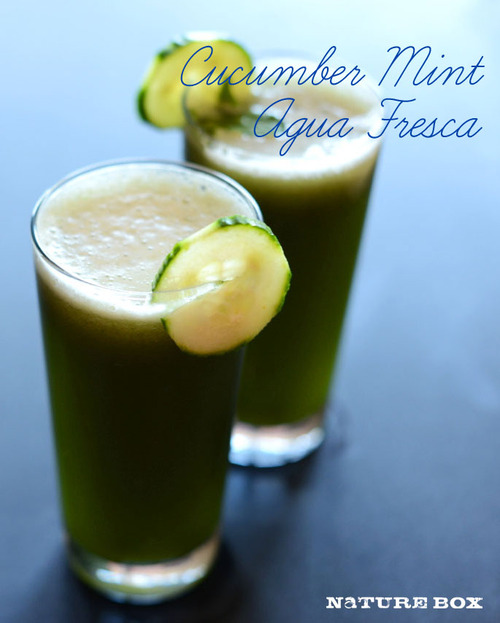 Spanish for "fresh waters," agua frescas are popular drinks in Mexican restaurants, street vendors, and bodegas. You've likely seen them in a variety of ways, infusing lightly sweetened water with any number of fruits, herbs, and spices. We're partial to the truly simple take on this recipe, like our Pineapple Agua Fresca, but like any good foodie, we always know there's something better, different, tastier we could do with a simple idea.
Appreciating how refreshing cucumbers are, and knowing that no variety tastes better than an English cucumber, we plucked this veggie for our next agua fresca endeavor. We also love fresh mint, an herb that has a natural ability to cool us off and add delightful flavor to anything it touches. So we combined the two in a new take on the green drink with this Cucumber Mint Agua Fresca.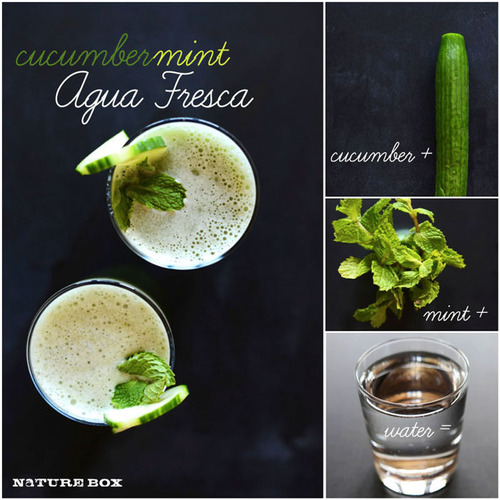 Serves: 4
Prep time: 15 minutes
Ingredients:
1 large english cucumber
1/4 cup fresh mint leaves
4 cups water, divided
1/2 teaspoon honey or agave (or 1/4 packet non-bitter stevia)
Directions:
1.Add cucumber, mint and 1 cup water to a blender and blend until well combined. Pour the mixture through a cheesecloth, a very thin towel, or clean, very thin t-shirt spread over a large mixing bowl. (A fine mesh strainer won't work here as the pulp of the cucumber seeps through and makes the drink too thick and gel-like.)
2. Using your hands, work the pulp down until all of the liquid has seeped through, it may take several minutes. Transfer liquid to a large pitcher and add 1-2 cups more water (depending on preferred concentration). Whisk in sweetener of choice. Taste and adjust flavor as needed. Chill and stir once more before serving. Alternatively, add ice cubes, garnish with mint and cucumber and serve immediately!
Notes:
If you don't have cheesecloth, forgo blending the cucumber and mint and simply add a sliced cucumber and the mint leaves to a pitcher with 4 cups of water and let it rest overnight. Add ice before serving and garnish with mint and cucumber.
Prepare a pitcher to keep in your refrigerator so you can sip anytime you like. But the recipe would also be welcome at any party or picnic you're attending this summer. A low-calorie alternative to sodas and juices, this agua fresca can be enjoyed by anyone, anytime. Say adios to boring water!
More recipes from DietsInReview.com:
Get more healthy ideas and delicious snacks by joining NatureBox. Enter coupon code NATURE for 25% off your first month subscription!