Got a couple of minutes and some extra NatureBox Bombay Curried Cashews on hand? Toss them together with shrimp and freshly-sliced veggies for a tasty, curry-infused stir-fry!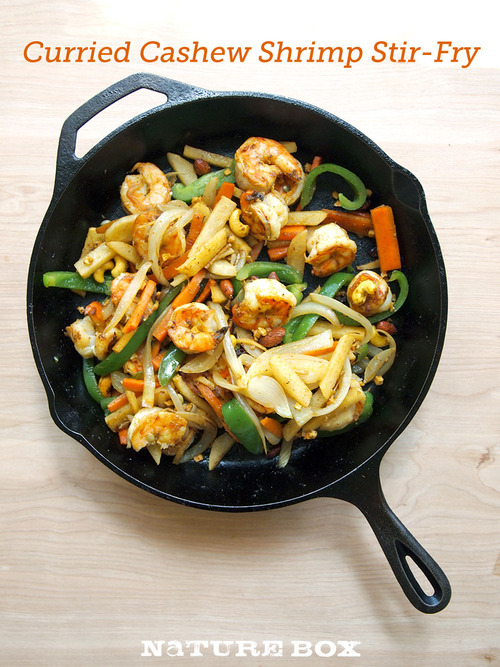 Serves: 2-3
Prep time: 15 minutes
Cook time: 10 minutes
Ingredients:
1 pound large shrimp, peeled and deveined
2 tablespoons olive oil, divided
2 teaspoons Madras curry powder, divided
1/4 teaspoon grated fresh ginger
1/2 onion, thinly sliced
1 carrot, sliced into strips
1 green bell pepper, sliced into strips
1/2 jicama, sliced into strips (or about 2 cups)
2 tablespoons soy sauce
Kosher salt (optional)
Directions:
1. Head a large skillet over high heat and add 1 tablespoon olive oil. While the pan is heating, season the shrimp with 1 teaspoon curry powder.
2. Once the pan is hot, arrange the shrimp in a single layer and brown until cooked through, about 2 minutes per side. Set aside.
3. Add the rest of the oil and ginger to the skillet and stir frequently to flavor the oil. Add the onions and carrots and stir-fry for 2 minutes.
4. Add the bell pepper and jicama strips and continue to stir-fry for another 2 minutes. Toss in the rest of the curry powder and soy sauce to season the vegetable mixture. Add the shrimp and cashews and stir fry for 1 more minute till the shrimp are heated through.
5. Taste and season with salt if desired. Serve with a side of brown rice or greens and enjoy!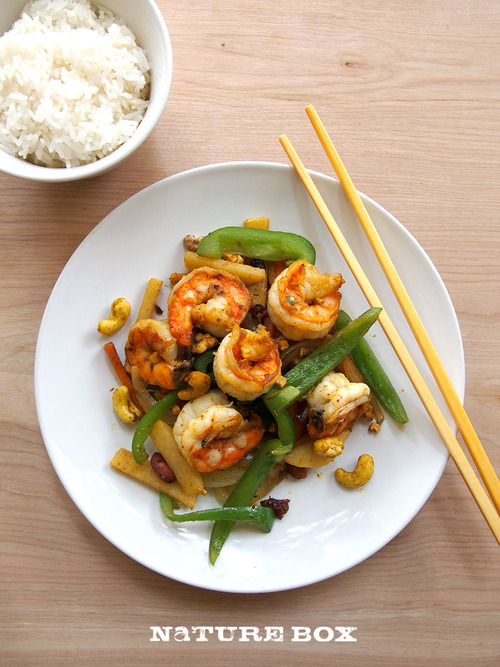 Get more healthy ideas and delicious snacks by joining NatureBox. Enter coupon code NATURE for 25% off your first month subscription!
A devout student of flavor, Tsz documents her food adventures at Gastrophoria. In the rare moments she's not planning her next meal, she grows businesses through unique design solutions.