Here is your not-so-traditional candy apple made so simple and wholesome. It's the perfect Halloween snack for your kiddos and yourself!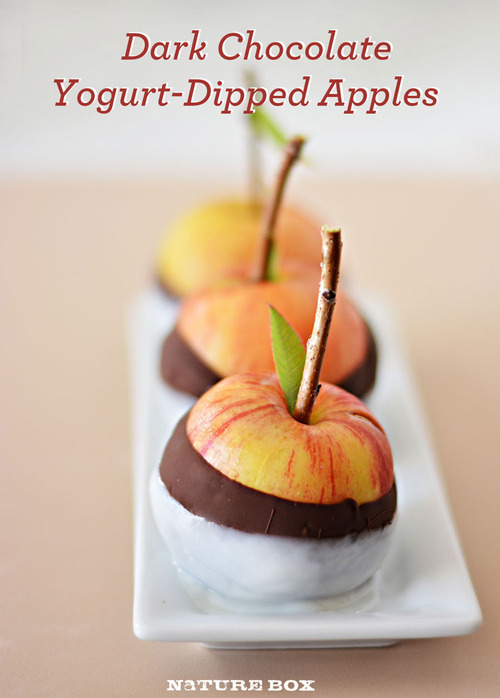 Makes: 6 small dipped apples
Prep time: 20 minutes
Ingredients:
6 baby apples
6 wooden sticks or popsicle sticks
2 cups of dark chocolate chips
About 2 cups non-fat vanilla yogurt or Greek yogurt
Directions:
1. Add the stick to the apples and freeze them for about 2 hours.
2. Melt chocolate chips in a double boiler.
3. Dip apples in chocolate and remove excess chocolate by tapping on the side of the dish. Freeze immediately until hardened, about 30 minutes.
4. Add the yogurt into a deep dish and dip your frozen dark chocolate apples. Freeze immediately until yogurt is frozen, about 4 hours.
5. For a second coat of yogurt, dip apples a second time.
Want more kid-friendly food tips? Find out how to pack a lunch box.
Get more healthy ideas and delicious snacks by joining NatureBox. Sign up today for a free trial!
Angie shares yummy food, easy DIY crafts, adventures of motherhood, and everything in between on her blog Little Inspiration. Check out more of her healthy and fun recipes here.