This fun little dinosaur lunch is the perfect way to celebrate the release of the new Jurassic World coming out in theaters tomorrow.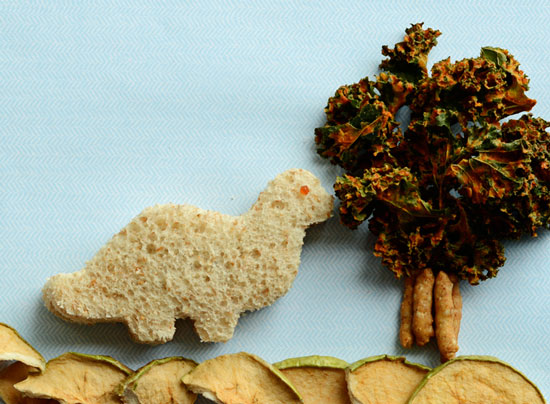 Now that summer is here, our lunches are a little more casual (and we're box-free for a bit, too!). This dinosaur is the perfect little addition to a tree made of Kale Chips! His little path is made out of NatureBox Granny Smith Apples.
He's almost too cute to eat! I use a dino-shaped cookie cutter to cut out a nut butter sandwich. I use a tiny piece of NatureBox Mango Orange Fruit Chews (rolled into a ball) for his eye.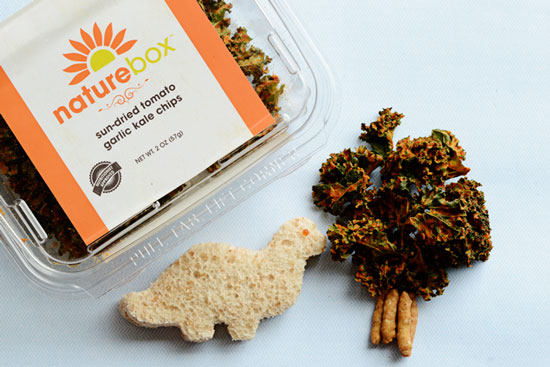 And the Sun-Dried Tomato Garlic Kale Chips make the PERFECT tree for our dino. The trunk is made of NatureBox Santa Fe Corn Stix.
Nom, nom, nom, little dino!
Looking for more delicious and fun ideas for the kids? Check out our lunch box ideas!
Get more healthy ideas and delicious snacks by joining NatureBox. Sign up today to kick off your membership with a free trial!
Kristi Dominguez is a former event planner and part-time graphic designer. She blogs at IShouldBeMoppingTheFloor.com where she tackles projects to turn her cookie-cutter home into something more exciting. A lot more exciting.