Eating Well on Summer Vacation
by NatureBox Nutritionist Kat Brown, MS RD RYT
Summertime travel gets us out of the box- it's such an exciting time to see new things, explore the outdoors, and spend time with loved ones. Adventuring out however, can make a dent in your intentions to eat well. With some planning and ingenuity, you can keep it up with the wholesome diet you have all year round, and have some fun with spontaneous eating because you know that most of your meals and snacks are nutritionally sound.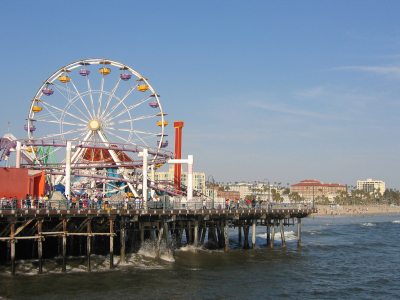 Splurge on the Experience
You've heard it before- "I'm on vacation, I'm eating whatever I want and I'll go on a diet when I'm back home". But that sets up a mentality of all-or-nothing thinking about food that can cause a rollercoaster of weight gain and yo-yo dieting. Vacation isn't a free for all- keep with the tenets of balance, variety and moderation with all foods, even when you're traveling. Yes-include fun foods! By having them when it is a special occasion or treat, and not restricting foods that are higher in sugar, salt, fat and calories, we end up eating them more moderately. 
Local Flavor
See summer travel as a way to get out there and try new foods, and enjoy the abundance of fresh produce that's in season. Check out a local farmers market to sample fruits and veggies in varieties that may not be available in your hometown. If you're vacationing on the coast- include fresh seafood- so delicious, and a good source of lean protein and heart healthy fats. When you do eat out, look for options on the menu that have vibrant color and lots of food groups- a surefire way to have a balanced meal.
While You're Packing, Think of Snacking
Plan balanced meals and pack snacks. If you're staying in a place with refrigeration, do a grocery run so you can eat well and save money and time by eating a few meals a day out of your room or kitchen, rather than eating out every meal. Bring dried fruit and nuts, a convenient, nutrient dense and satisfying snack that's great for the beach, camping, or throughout a long car or plane ride.
Keep in mind that good quality fuel will help give you and your family energy and spunk to set you up for an awesome summer vacation. Prepare to a certain point, and then use your flexibility and knowledge on the go to roll with unplanned eating snafus. And relax- normal, healthy eating isn't perfect. Have a great trip and don't forget to share your adventures with us!
Get more healthy ideas and delicious snacks by joining NatureBox. Enter coupon code NATURE for 25% off your first month subscription!
Kat Brown MS RD RYT is a San Francisco Bay Area based Registered Dietitian and Yoga Teacher. As a nutrition counselor, writer, cook, and yogini she seeks to inspire others to nourish themselves and live balanced, fulfilled lives.