Deviled eggs are made healthier with Greek yogurt and "cutened" up with carrots and celery to look like bunnies – just in time for your Easter celebration!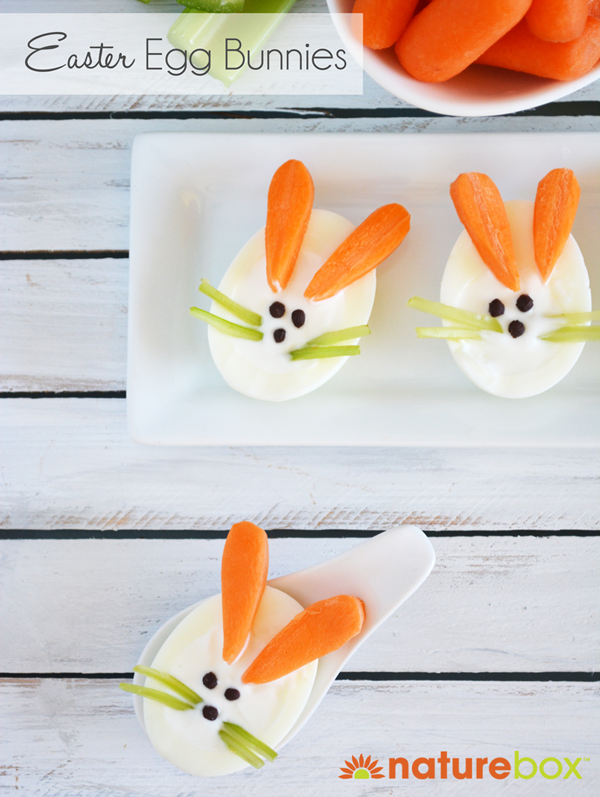 Ingredients:
Hard-boiled eggs
Carrot Sticks
Celery
Mini chocolate chips, minced olives or peppercorns for eyes
Directions:
1. Boil eggs, then peel, cut in half and remove yolks.
2. Shape bunny ears from carrot sticks: Cut the carrot stick in half and use a peeler to shape as an ear.
3. To make whiskers, slice thin strips of celery.
4. Fill in eggs with cream cheese, Greek yogurt or your favorite dip. (This Greek Green Goddess Dip would be a great choice!)
5. Add eyes and nose using the mini chocolate chips, minced olives or peppercorns.
Pics or it didn't happen! When you whip up this recipe, post it on Instagram or Facebook with the hashtag #natureboxrecipe so we can like and reshare it!
Get more healthy ideas and delicious snacks by joining NatureBox. Sign up today to get 50% off your first box!