from the NatureBox editors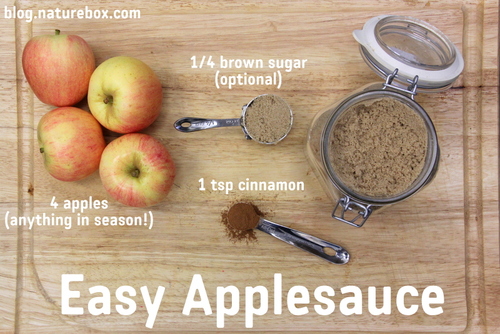 This recipe is a cinch to make and ready in under an hour. Utilizing the freshest, sweetest apples you can find (bonus if you can get them from a local orchard!), Easy Applesauce is a perfect afternoon snack or dessert. You control the amount of sugar that is added so you can feel good about giving this to your family all season long!
Ingredients:
4 apples (whatever is in season!) – peeled, cored, and finely diced
3/4 cup water or apple juice
1 tsp cinnamon
Optional: 1-4 TBSP brown sugar, honey, agave, or sucanat
Directions:
In a small saucepan, combine apples, water, cinnamon, and sweetener (if using). Stir, cover, and bring to slow boil over medium heat. Allow to cook for 30-40 minutes until apples are soft.
Remove from heat and allow mixture to cool until it is not scalding hot. Transfer apple mixture to a food processor and pulse until desired consistency. If you do not have a food processor, you can mash with a potato masher.
Sprinkle with a touch more cinnamon, grab a spoon, and dig in! Store in the refrigerator or freeze to make it last even longer.
Note: Depending on how sweet your apples are, you might not need any additional sweetener. If your apples are tart, add in sweetener 1 TBSP at a time. This recipe may be doubled or even tripled to feed a crowd!
Tip: This is a great kid-friendly recipe as kids can help pick/select the apples and peel them at home.
Get more healthy ideas and delicious snacks by joining NatureBox. Enter coupon code NATURE for 25% off your first month subscription!