Serves 4
from the NatureBox editors
Short on time for dinner? This Easy Weeknight Pasta Bake uses ingredients you probably already have on hand is ready to go from start to finish in about 45 minutes (and 30 minutes of that time is in the oven!) What will you do with those 30 minutes? Well, that's up to you!
The best part about this dish is that it is just a base recipe- you can sub in any vegetables or protein options that you'd like. Store-bought sauces do the trick in a pinch or use your own home-made sauce if you prefer!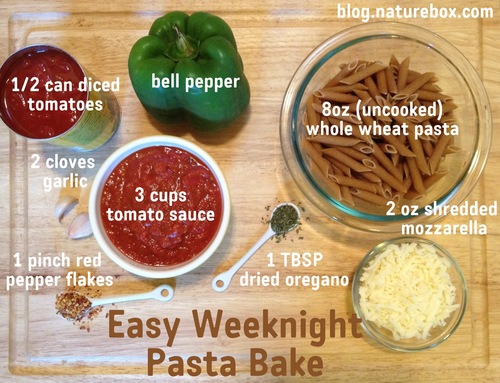 Ingredients:
8oz. (uncooked) whole wheat penne pasta (or any shape that you prefer!)
1/2 of a 15oz can of diced tomatoes
3 cups of your favor tomato sauce (homemade or store-bought)
2 cloves garlic, finely chopped
1 bell pepper
1 TBSP dried oregano
2 oz. shredded mozzarella cheese
salt + pepper to taste
Optional Add-Ins:
1 pinch red pepper flakes
Protein ideas: sliced chicken sausage links, meatballs, white cannellini beans
1/2 cup ricotta cheese
Instructions:
Preheat oven to 350* and prepare an 8"x8" baking dish with cooking spray.
Cook noodles al dente, according to package directions. Do not over cook as they will continue to cook in the oven. While the noodles cook, slice bell pepper into thin strips and lightly soften in a frying pan with a 1/2 TBSP of cooking oil of choice. Add the chopped garlic to the pan and cook until fragrant.
When the noodles are finished cooking, drain and return to the pot. Toss noodles with diced tomatoes, tomato sauce, sauteed bell peppers, garlic, spices, and any meat/protein, if using.
Pour pasta mixture into baking dish and scatter with the shredded cheese. Bake for ~30 minutes (until golden and bubbly) and then dig in!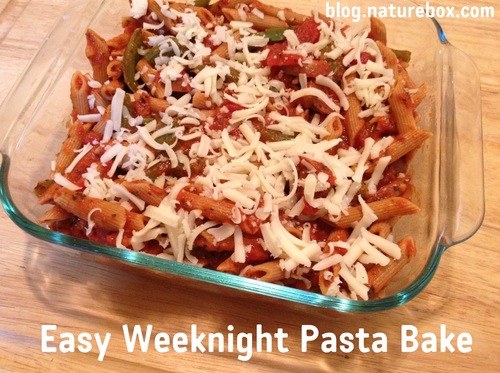 Note: Feel free to slightly sauteed and mix-in any other veggies that you'd like- onions, zucchini, squash, and mushrooms are great ideas as well and an easy way to sneak in a few extra veggies at dinner time.
Tip: The leftovers taste delicious so feel free to double this recipe for a crowd or to have for the next day's lunch/dinner.
Tell us: What would you add in to this baked pasta dish?
Get more healthy ideas and delicious snacks by joining NatureBox. Enter coupon code NATURE for 25% off your first month subscription!