In this recipe, NatureBox Everything Bagel Stix is used to make a deconstructed lox of sorts – the snack is finely chopped and used as a crispy crunch to tasty salmon. The dish is finished with a drizzle of creamy chive sauce.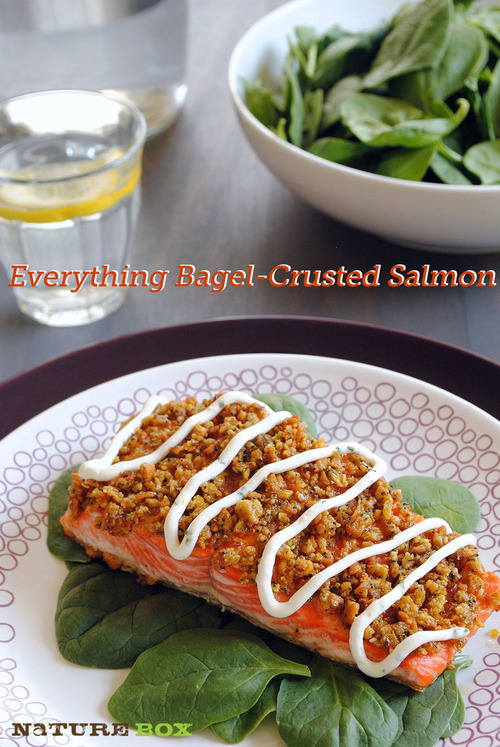 Serves: 4
Prep time: 10 minutes
Cook time: 12 minutes
Ingredients:
2/3 cup NatureBox Everything Bagel Stix
2 tablespoons olive oil
1 teaspoon grated lemon zest
1/2 teaspoon ground black pepper
Olive oil nonstick spray
4 salmon fillets (about 1-1/2 pounds)
1/3 cup low fat cream cheese
1-1/2tablespoons chopped fresh chives
1 tablespoon fresh lemon juice
1 tablespoon low fat milk
4 cups baby spinach
Directions:
1. Preheat oven to 400 degrees F. Place Everything Bagel Stix in food processor; pulse until finely chopped. Transfer to small bowl. Add oil, lemon zest and pepper; stir to combine.
2. Line rimmed baking pan with foil; spray foil with nonstick spray. Place salmon, skin side down, on prepared pan. Divide crumb mixture over salmon fillets; lightly press to adhere mixture to fish. Bake until salmon is almost opaque throughout and internal temperature reaches 145 degrees F, about 12 to 14 minutes.
3. Meanwhile, in a small bowl, microwave cream cheese 30 seconds or until very soft. Stir in chives, lemon juice and milk.
4. If desired, slip spatula between salmon skin and flesh to remove skin. Serve salmon over spinach, drizzled with sauce.
Get more healthy ideas and delicious snacks by joining NatureBox. Enter coupon code NATURE for 25% off your first month subscription!
Lori is a Detroit-area food writer, recipe developer and restaurant reviewer. She's usually found in the kitchen cooking up something that undoubtedly involves beets, lemons or coconut for her blog, Foxes Love Lemons. Check out more of her recipes here.