Warm, sweet baked rolls don't need to be coated in cinnamon and frosting! Well, maybe just cinnamon. Here, we made this swirly baked treat with chopped dried figs and walnuts. Enjoy!
Makes: 8 rolls
Prep time: 45 minutes
Bake time: 8-10 minutes
Ingredients:
1/4 cup unsalted butter
3/4 cup milk + 2 tablespoons for brushing
1/3 cup sugar + 3 tablespoon for filling
1/2 teaspoon ground cardamom (or allspice)
1/4 teaspoon salt
1 teaspoon active dry yeast
1 tablespoon cinnamon
2 cups all purpose flour
1/4 cup chopped walnuts
3/4 cup chopped NatureBox Fancy Dried Figs
Directions
1. Melt butter in a saucepan over low heat, then add 3/4 cup milk, 1/3 cup sugar, salt and cardamom. Turn off the heat and stir well. Add the yeast and let stand 5 minutes.
2. Pour mixture into a stand mixer fitted with hook attachment and stir in flour a little at a time. Knead for 10 minutes, then let rise for 1 hour.
3. Roll out dough into a rectangle, about 1/4-inch thick, and sprinkle with cinnamon, sugar, walnuts, and chopped figs.
4. Roll up with the shorter end perpendicular to you, then slice into 2 inch segments.
5. Place on a greased baking sheet or muffin pan and cover with a towel for 30 minutes. Meanwhile, preheat oven to 400 degrees F. Brush the tops of the rolls with milk and sprinkle sugar on top, if desired. Bake until golden brown, about 8-10 minutes.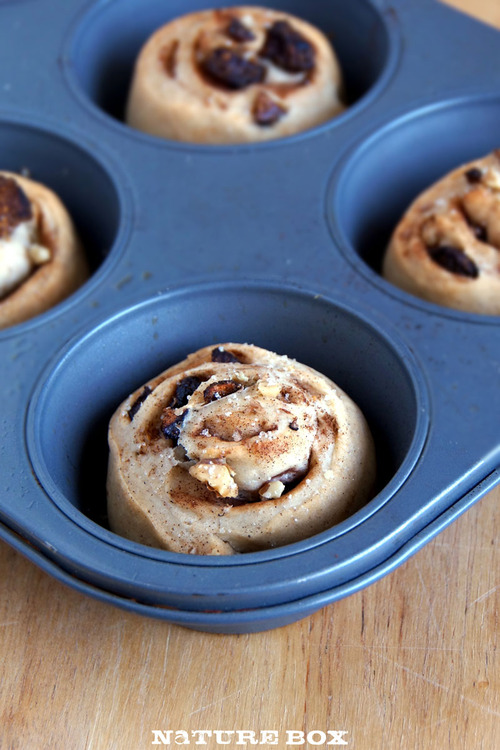 Why figs? Why not! Check out why Fancy Dried Figs are a fave NatureBox snack!
Pics or it didn't happen! When you whip up this recipe, post it on Instagram or Facebook with the hashtag #natureboxrecipe so we can like and reshare it!
Get more healthy ideas and delicious snacks by joining NatureBox. Sign up today to get 50% off your first box!