by Dana Shultz of DietsInReview.com  
Has spring sprung where you live yet? It certainly has here in the Midwest and we're loving it, sneaking in as many patio work dates as possible. Something about feeling the sun warm your skin after a long winter makes work all-the-more enjoyable.
Of the many things I love about springtime – the smell of fresh cut grass, taking strolls around my neighborhood with my husband, enjoying some wine on the patio in the evenings – I absolutely adore fresh citrus drinks like limeades. In fact, one of the first interactions my husband and I had before dating was when he came over to borrow a book and I made him a limeade. It's simply the perfect easy, refreshing beverage to brighten up your mood and tastebuds.
You can use the sweetener of your choosing, but I like to use stevia, which is a natural sweetener derived from the stevia plant. It is much sweeter than sugar so you only have to use a small amount (about 1/4 of the amount you would as sugar) and your body digests it slowly, helping you avoid any blood sugar spikes or drops after consuming.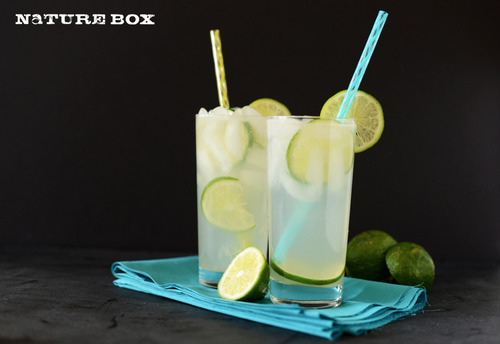 Another fun element of this version of limeade is that it's fizzy! I used club soda to give it a distinct bubbly feel. This is the way I used to prepare them when I worked at a local diner during college, and that's the way I've grown to love and enjoy them myself.
The recipe below is very simple and customizable. If you prefer your limeade sweeter, simply add more sweetener. If you prefer it more tart, add more lime juice. And of course, if you aren't a club soda fan, simply omit it and add more lemon juice and sweetened water. As well, adding a bit of vodka or other light liquor is a great way to make it an adult beverage without any fuss.
Now, let's go officially kick off spring and enjoy one of these healthy, fresh limeades!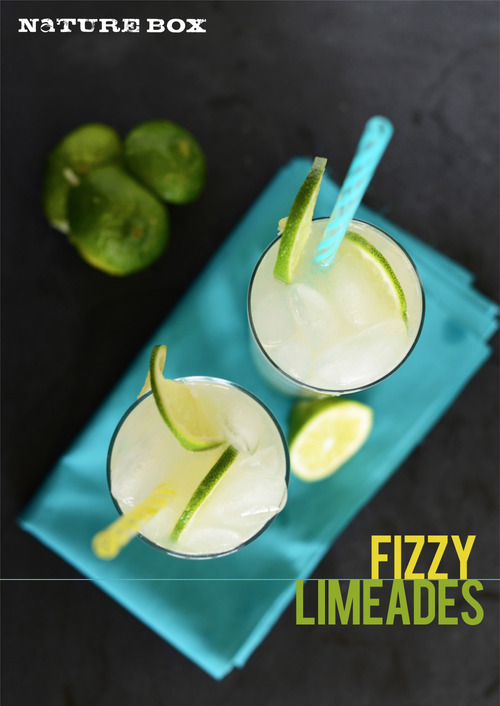 Serves: 2
Ingredients:
1/2 cup raw cane sugar or honey (or 2 tablespoons stevia)

1 cup hot water

Juice of 5 limes (about 1/2 cup)

1/2 cup club soda (optional)

1 cup ice cubes

 
Directions:
1. Stir sweetener into hot water until it dissolves. Set aside to cool.
2. For each serving: Add half of the lime juice to a tall serving glass. Stir in 1/4 cup sweetened water. Top off with ice cubes and then pour over 1/4 club soda. Stir to combine.
3. Taste and adjust sweetness/tartness as needed by adding a pinch or two more of sweetener or a dash of extra lime juice. 
4. You can either combine your lime juice with the sweetened water for later use, or keep them separate to use for other variations of this beverage (such as a cocktail or strawberry limeade). Either way they'll stay fresh for up to a week or so.
Estimated Nutrition per beverage: 15 calories, 14 mg sodium, 5 g carbohydrates, 1 g sugar, .3 g protein
Try these other recipes by DietsInReview.com:
Get more healthy ideas and delicious snacks by joining NatureBox. Enter coupon code NATURE for 25% off your first month subscription!