A visit to our favorite Thai restaurant and a generations-old Massaman Thai curry recipe came together to inspire these amazing nuts. Get the full backstory on our new, limited-edition Thai Coconut Curry Peanuts and how we developed this unique recipe.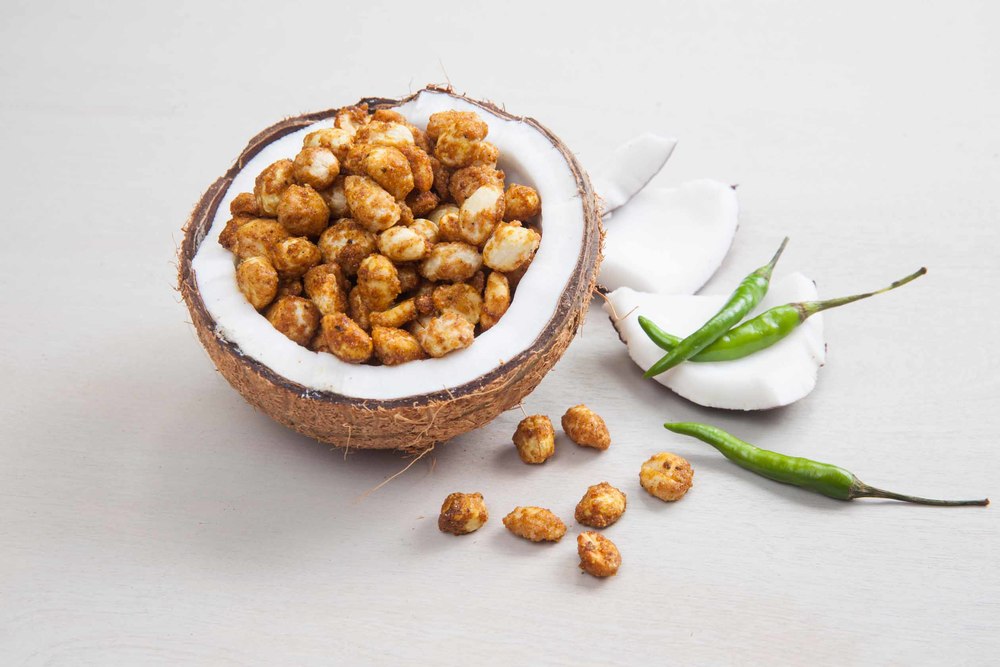 Ingredient 101
Premium peanuts are dry roasted with yellow curry powder made from a unique blend of coriander, turmeric, mustard, garlic, paprika, and pepper. Another key ingredient? Garam masala. It's an Indian spice blend containing cumin, pepper, cinnamon, cardamom, cloves and mace. Safe to say it's easy to kick happy hour and your favorite Thai dishes up a notch with these babies.
Snack Hack
Impress your guests and pour a bowl of these fragrant, mildly spicy, yet totally delicious peanuts. Or get creative and add to your favorite thai dishes. 
Behind the Snack
Our director of Product Innovation and resident foodie, Travis Rea, tells us the story behind how this snack was concepted. "I had visited this tiny little hole-in-the wall Thai restaurant in NYC and ordered curry. It turned out to be the best curry I've ever had. I complimented the owner on the fantastic dish and he revealed it was a generations old recipe from his mother." Safe to say this snack has some history!
Flavor File
The flavor profile is based on Massaman Curry. Massaman (or Matsaman or Mussulman) Curry originated in 17th century Central Thailand. It's influenced by Malay and Indian cuisines. The flavors of the Massaman Curry come from spices that are not frequently used in other Thai curries. The spices were brought to Thailand from the Malay Archipelago and South Asia by foreigners through trade routes.
Fun Fact
What makes this snack so special? "Most of the other flavored nuts on the market are just tossed with some flavored powder and stuck into a bag….our nuts are actually coated so the flavor ends up on the nut and not the bottom of the bag," says Travis.
Curry up and try these nuts, they won't be around for long!