The grill is preheating and the drinks are flowing in preparation for the biggest summer party in America. These Fourth of July parfaits are the perfect addition to your festivities, so grab a spoon and dig in!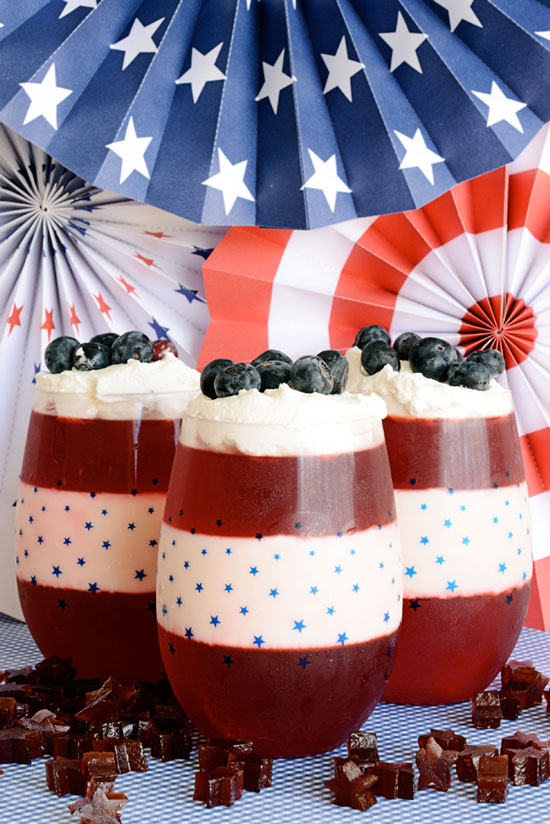 I love all things Fourth of July…and combining all of the fun of the holiday into a parfait is a perfect way to celebrate. I even found some fun star-laden stemless wine glasses to use for these.
Patriotic Gelatin Parfaits
Serves: 6
Red Gelatin Layers:
1 cup all-natural, ice cold fruit juice, divided (I used cranberry, but you can play around with flavors and colors, if you prefer)
4 packets plain gelatin, divided
3 cups boiling fruit juice (you can play around with the color consistency by using less boiling juice and add in some boiling water instead), divided (only boil 1 1/2 cups at a time)
White Gelatin Layer:
3 cups plain Greek Yogurt
1 cup boiling water
1/4 cup raw sugar
1 tbsp vanilla
1 packet unflavored gelatin
Optional: whipped cream and blueberries for topping
First, prepare the first layer of red gelatin. Pour 1/2 cup cold juice into large bowl. Sprinkle with 2 gelatin packets and allow it to absorb for a minute. Pour 1 1/2 cups boiling juice/water into the bowl and stir until all of the gelatin dissolves. From here, pour into six stemless wine glasses. Refrigerate and allow to set up for three hours. I like to make sure this first level is perfectly set up before continuing.
After the first layer has completely set up, prepare the white gelatin layer. Mix 1 packet of gelatin into the boiling water until completely dissolved. In a separate bowl, combine the Greek Yogurt, sugar, and vanilla with a hand mixer. Add gelatin mixture to the yogurt mixture and continue to mix for 2 minutes. Pour equal amounts into each glass, on top of the red layer. Refrigerate for two hours until set.
Repeat the process of the red gelatin and pour on top of the white layer. Refrigerate overnight. Garnish with whipped cream and blueberries, if desired.
Enjoy with a side of NatureBox Strawberry Lemonade Fruit Stars!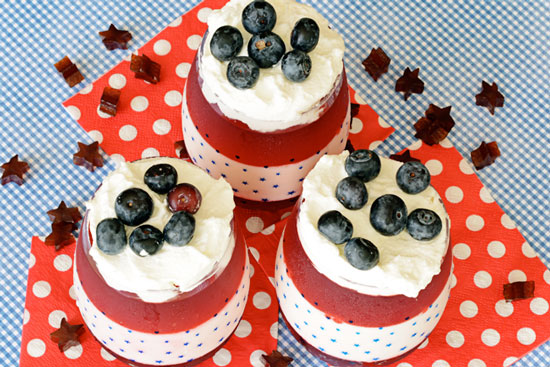 Happy Fourth of July!
Looking for more delicious and fun kid-friendly inspirations? Check out our lunch box ideas!
Get more healthy ideas and delicious snacks by joining NatureBox. Sign up today to kick off your membership with a free trial!
Kristi Dominguez is a former event planner and part-time graphic designer. She blogs at IShouldBeMoppingTheFloor.com where she tackles projects to turn her cookie-cutter home into something more exciting. A lot more exciting.