Everyone loves French onion soup but not everyone loves the extra fat sodium and calories that it packs. In this sandwich alternative, we added baked chicken to spinach and caramelized onions, and just a slice of ooey gooey Swiss cheese.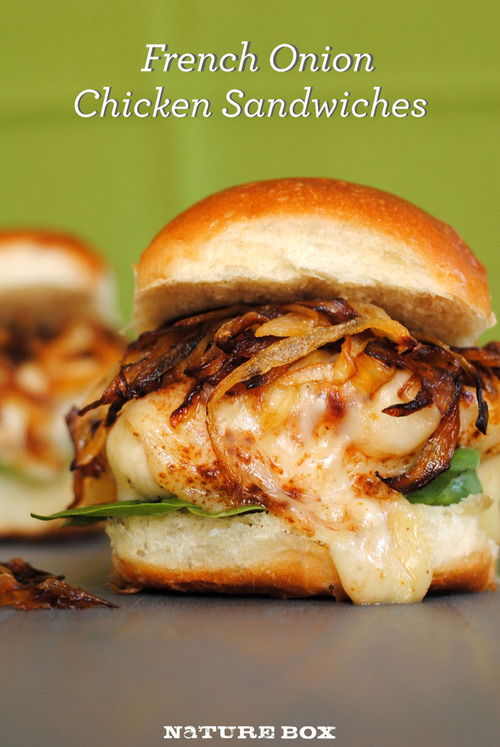 Serves: 4
Prep time: 10 minutes
Cook time: 25 minutes
Ingredients:
1 tablespoon extra virgin olive oil
1 large white onion, thinly sliced
1 teaspoon granulated sugar
Olive oil nonstick cooking spray
2 boneless, skinless chicken breasts, halved crosswise and pounded to 1-inch thickness, if necessary
4 slices Swiss cheese
4 hamburger buns
2 cups baby spinach
Directions:
1. In large skillet, heat oil over medium heat. Add onion and sugar; cook 25 minutes or until onions are deeply caramelized, stirring frequently.
2. Meanwhile, preheat oven to 400 degrees F. Spray rimmed baking pan with nonstick spray. Place chicken on prepared pan. Bake until chicken loses its pink color throughout and internal temperature reaches 160 degrees F, about 16 minutes.
3. Turn oven to broiler function (high heat). Place cheese slices on chicken pieces. Broil 1 to 2 minutes or until cheese is melted and golden brown. Build sandwiches using hamburger buns, spinach, chicken and caramelized onions.
Still hungry? Check out our other sandwich recipes!
Pics or it didn't happen! When you whip up this recipe, post it on Instagram or Facebook with the hashtag #natureboxrecipe so we can like and reshare it!
Get more healthy ideas and delicious snacks by joining NatureBox. Sign up today to get 50% off your first box!