Ice cream for breakfast? We say YES!
from the NatureBox editors
Here's a quick and easy recipe for the healthiest "ice cream" imaginable. You can even enjoy this for breakfast. All you really need for this gluten-free, nut-free, dairy-free treat is one ingredient! So pull out your food processor or high-speed blender and give this a try.
Ingredients
2 bananas, peeled, cut into quarters and frozen overnight in a small zip-top bag
Optional Mix-Ins:

1 tsp vanilla
1 TBSP nut butter of choice (peanut, almond, sunflower)
2 TBSP cocoa powder
NatureBox Harvest Fruit Granola (for topping!)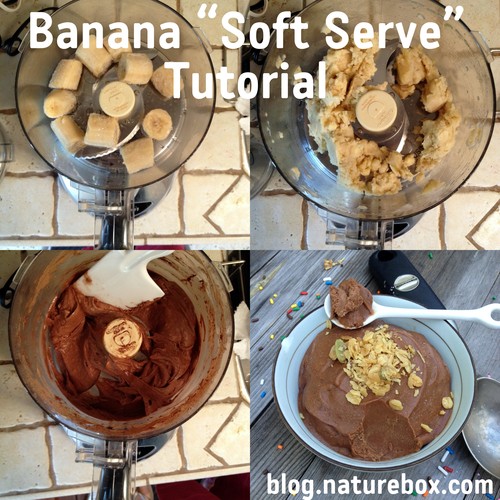 Directions:
Place frozen banana chunks in food processor and begin to process by using the "pulse" button. Let the bananas chop up (it might take several minutes) until is resembles a dough then pause the processor to scrap down the edges. Add in whatever mix-ins you'd like, then process until fully combined, smooth and creamy.
You can scrap the "soft serve" into a bowl and freeze for an hour or two until hard or eat right away at the softer consistency. You can also freeze this overnight or during the day, then scoop out into smaller portions.
Tell us: Have you ever tried Banana "Soft Serve" and if not, what would be your favorite things to mix-in?
Get more healthy ideas and delicious snacks by joining NatureBox. Enter coupon code NATURE for 25% off your first month subscription!