Summer treats don't have to be high in fat and loaded with sugar! For a cold, refreshing, savory dessert, try making these Frozen Chocolate Banana Bites!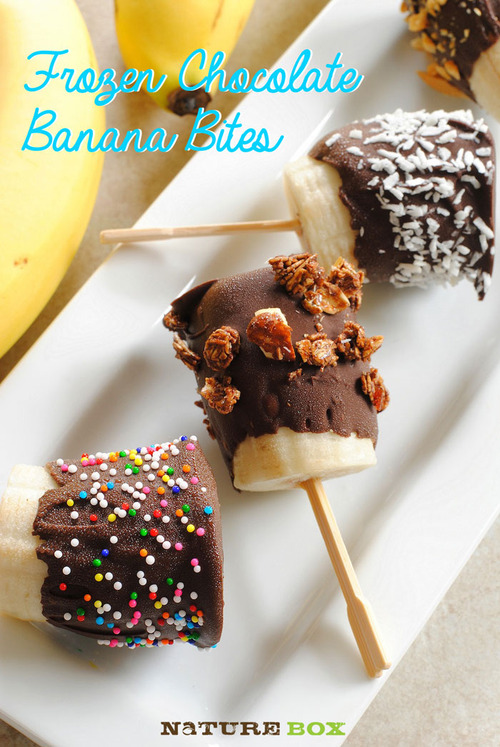 Makes: 16 pieces
Prep Time: 25 minutes plus freezing
Ingredients:
16 small bamboo skewers or forks
4 ripe but firm bananas, peeled and cut crosswise into 4 pieces each
1 cup of toppings, such as NatureBox Cherry Ganache Granola (larger pieces chopped), coconut, sprinkles and/or chopped nuts
1 bag (12 ounces) semi-sweet chocolate chips
Directions:
1. Insert a skewer into the end of each banana. Place on a parchment-lined baking pan and place in freezer at least 4 hours or up to overnight.
2. Place each topping in its own shallow bowl or plate. Melt the chocolate in a double boiler over medium-low heat, stirring frequently. Pour some melted chocolate into a short glass or cup.
3. One at a time, dip frozen bananas into chocolate, turning to coat and letting excess chocolate drip off. Immediately sprinkle with toppings, lightly pressing to adhere if necessary. Refill glass with more melted chocolate as needed.
4. Place bananas back on baking pan, and re-freeze for at least 1 hour. Store in freezer for up to 4 days.
Get more healthy ideas and delicious snacks by joining NatureBox. Enter coupon code NATURE for 25% off your first month subscription!
Lori is a Detroit-area food writer, recipe developer and restaurant reviewer. She's usually found in the kitchen cooking up something that undoubtedly involves beets, lemons or coconut for her blog, Foxes Love Lemons. Check out more of her recipes here.