How to fit whole grains in at each meal and snack
by NatureBox Nutritionist Kat Brown, MS RD RYT

We all know the recommendations to squeeze in more whole grains, and many of us are familiar with their health benefits for digestion and heart health. So how can you deliciously add whole grains in at every meal? Well, that's what we're here to help with- try these fun, nutritious additions to your meals and snacks for the satisfaction, fiber, and antioxidants that whole grain foods provide.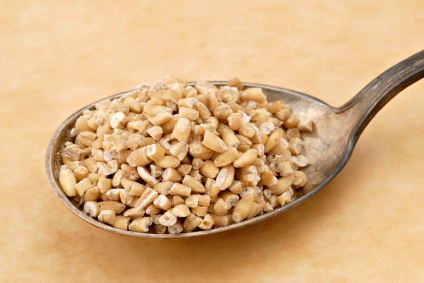 Breakfast
For most, morning mealtime is an easy time to eat whole grain foods. Check out steel cut or rolled oats, whole grain cereals, and whole grain toaster waffles. Just be sure to steer away from prepackaged envelopes of oatmeal with a ton of added ingredients and sugars. Pair with a piece fruit and a protein or fat source like nuts or nut butter and you've got a satisfying way to start your day.
Lunch
Whether you're packing lunch for the whole family or just yourself, whole grains can be a tasty addition to the mid-day meal. One easy alternative is to try a whole grain bread (they should have 3 or more grams of fiber per slice) for sandwiches. Or to jazz up your everyday salad, try making a quinoa (or other cooked grain such as whole wheat bulgur or couscous) salad with black beans, diced veggies and vinaigrette. Precooked barley can be added to ready-made soups in place of pasta for a more nutritious, filling option.
Dinner
Dinnertime is a prime time to try new whole grain foods. While the old staple brown rice takes a while to prepare, its microwaveable versions are good in a pinch.  Or make a big batch at the beginning of the week to store in the fridge add on the side of your entrée. Whole grain risotto can be made with barley or brown rice in place of Arborio rice. And don't write off whole grain pastas- try different shapes to keep it interesting. These days, you can usually find the whole grain variety of almost every single pasta shape. So from spaghetti and meatballs to casseroles, you can swap out your white pasta with a whole grain version.
Snacks
Whole grain snack foods come in a vast array to please any palate. Here are some whole grain snack foods to try:
Whole grain crackers – delicious for dipping in hummus or herbed Greek yogurt dip

Plain, non-buttered popcorn – fun on it's own or sprinkled with Parmesan cheese, spices (try paprika or cumin), or cinnamon

Whole grain tortillas (corn or whole wheat) – can be made into a quick veggie and cheese quesadilla or rolled with nut butter and fruit

Whole grain cereal – serve with milk or mix with nuts and dried fruit for a crunchy-sweet trail mix

Whole grain granola bars- convenient and grab-and-go, they come in a variety of flavors.

 However, beware of granola bars with a long list of unpronounceable ingredients and gobs of added sugars. Premade granola bars should have at least 4 grams of fiber and 6 grams or less of sugar.
Whatever package they come in, whole grains can be an enjoyable, wholesome, and nutritious addition to each meal and snack. In good health and good taste- the NatureBox team.
Get more healthy ideas and delicious snacks by joining NatureBox. Enter coupon code HEALTHY for 25% off your first month subscription!
Kat Brown MS RD RYT is a San Francisco Bay Area based Registered Dietitian and Yoga Teacher. As a nutrition counselor, writer, cook, and yogini she seeks to inspire others to nourish themselves and live balanced, fulfilled lives.