Over the years, I've discovered many new favorites — including restaurants, gadgets, books, and foods — from my best friend, Tina. I love her recommendations because she knows me so well, and I really trust her opinion.
At NatureBox, we want to help you discover new snacks to love, sort of like a trusted friend. To get the ball rolling, we recently launched the snack profile, which gives you access to personalized snack recommendations, tailored to your unique tastes.
Here's a quick look at how the profile and our recommendations system works.
Your Snack Profile:
To start your profile, head over to naturebox.com/profile. If this is your first time visiting your profile, we'll ask you a couple of questions to better understand your preferences. Some examples include:
Taste and texture preferences: "Delicious" means something different to each person, but flavor tends to be an important factor in whether you like (or dislike) particular foods. That's why we ask you to indicate your preference for various flavors on a 5-point scale. It's also helpful for us to know if you like crunchy or chewy snacks, but don't worry — if you enjoy both, there's an option for that, too.

Dietary preferences: In addition to food that tastes good, we also want to help you find snacks that fit your lifestyle and help you meet your nutritional goals. Whether you're trying to avoid added sugars, increase your protein consumption, or cut down on calories, let us know which dietary factors we should consider when making recommendations.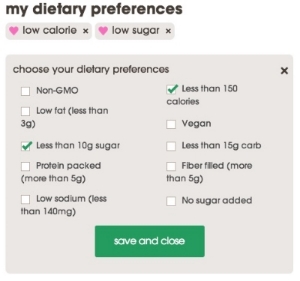 Personalized recommendations:
Once you've completed your profile, look for the purple "get new recommendations button at the top of the page. When you click that, you'll be taken to a category of snacks curated just for you. Behind the scenes, we compare your profile settings to all of the snacks in our catalog, and we compile a list of snacks that we're confident you'll like.

This category works just like our regular catalog — just click the "add to pantry" buttons to get these snacks in a future NatureBox! And you can always access this category in the future — just look for the "recommended for you" link in the category dropdown.

We hope you'll give the new profile a whirl — just click here to get started. When you're done, we'd love to hear what you think!