from the NatureBox editors
Did you catch our Be Well tip on our Facebook page yesterday? Even though tomorrow might not be a business as usual/day at the office/kids off to school weekday, doesn't mean you should slack in the snack prep department.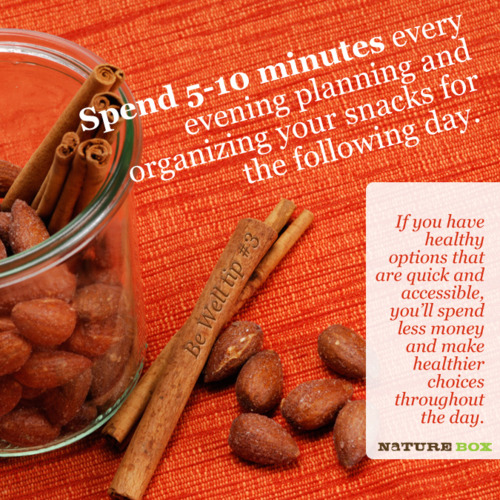 Think about your weekend activities – errands, shuttling kids to baseball/ballet/tennis, studying or barbecues and parties – don't forget to pack a few snacks if you think that healthy options might be hard to find in a pinch.
Food for Thought – here are a few interesting articles from around the web that are worth checking out this weekend:
Want to do a little experimenting with Sunday dinner? Here are 17 of the Healthiest Grains You've Never Heard Of via the Greatist. Think outside the brown rice and let us know if you try something new this weekend!
Some new (and somewhat shocking!) snacking statistics from the USDA's Agriculture Research Service. Check out the average number of calories men and women over the age of 20 consume a day through snacking and make sure your snacking habits are in check! 
A family that eats at home… has healthier kids? Yes, according to this recent article in The Atlantic. Yet another reason to gather around the table in the evenings this weekend.
Have a happy and healthy weekend!
In good health and good snacks,
The NatureBox Team 
Get more healthy ideas and delicious snacks by joining NatureBox. Enter coupon code NATURE for 25% off your first month subscription!