It's late afternoon, and your stomach starts grumbling. Luckily, you have a bag of NatureBox snacks! You reach for the pouch, only to discover that it's… EMPTY! You're not sure who has been munching on your snacks, leaving nothing but crumbs, but now you're facing a serious snack shortage. How could you have prevented this from happening?
Here at NatureBox, we hope you never find yourself in this snacking predicament, so we recently launched a new feature that lets you move your next rebill date to the earliest possible time — in most cases, that means the same day!
Here's how it works. Head over to your Dashboard and click on the tab that says "account info".

Scroll down the page until you see your subscription, then click the green pencil next to your next payment date.

When you click the pencil, a tab will expand and you'll see two options — "skip a month" and "ship as soon as possible."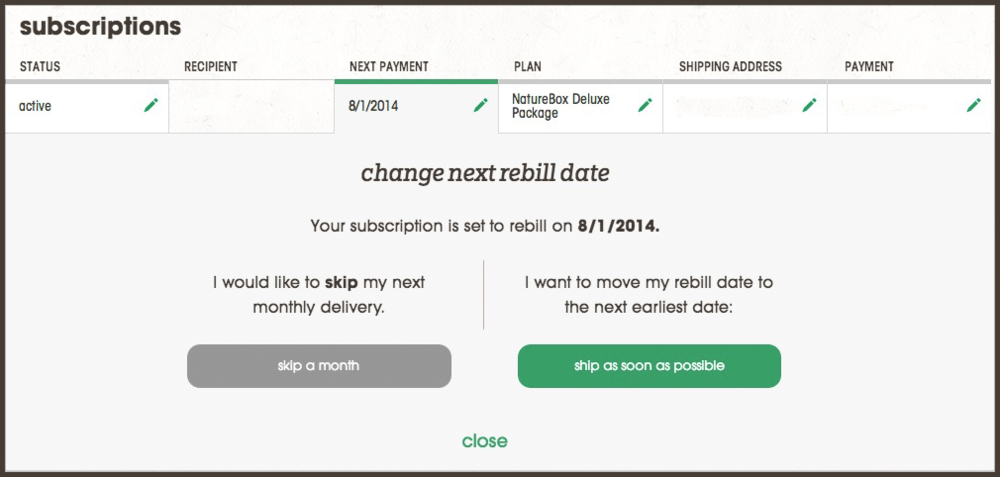 'If you click "ship as soon as possible," we will process your order at the next earliest possible time. In most cases, that will be the same day or the very next! When you click this button, your next rebill date will be reset to one month after your current box processes.
If you click "skip a month," we will push your next rebill date out one month from its current set date. Your subscription will be "paused," so you won't be able to add snacks to your Pantry anymore, but you will become active again 30 days prior to your new rebill date, so be sure to come back and customize your next box!
Want to learn more about this feature? Check out this quick video: