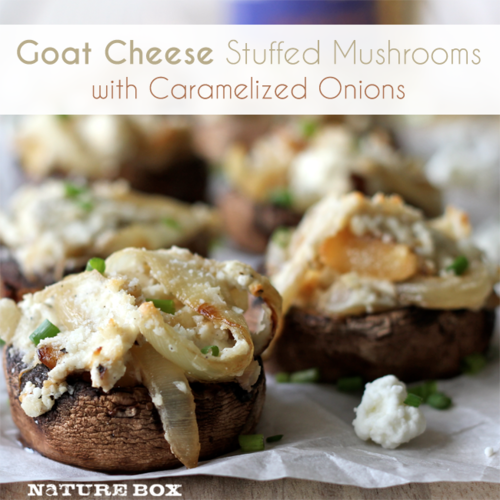 With the Super Bowl right around the corner, finger foods are a must! These creamy, stuffed

 
mushrooms
, loaded with caramelized onions take 15 minutes to whip up, and your guests will definitely be asking for seconds!

Y
ields 3-4 servings
Ingredients:
2 TBSP unsalted butter
1 onion, thinly sliced
1 cup crumbled goat cheese
1/2 teaspoon garlic powder
Kosher salt and freshly ground black pepper, to taste
16 ounces cremini mushrooms, stemmed
1 TBSP grated Parmesan
Directions:
Preheat oven to 350 degrees F. Line a baking sheet with parchment paper; set aside.
Melt butter in a large skillet over medium high heat. Add onions and cook, stirring, until soft and caramelized, about 10 minutes.
In a medium bowl, combine caramelized onions, goat cheese, garlic powder, salt and pepper, to taste.
Spoon the filling into each mushroom cavity and top with Parmesan. Place on prepared baking sheet, cavity side up, and bake until the mushrooms are tender and the filling is heated through, about 15-20 minutes.
Serve immediately.
Get more healthy ideas and delicious snacks by joining NatureBox. Enter coupon code NATURE for 25% off your first month subscription!
Chung-Ah, the author behind

 

Damn Delicious, loves to take simple ingredients and transform them into sophisticated and elegant meals