from the NatureBox editors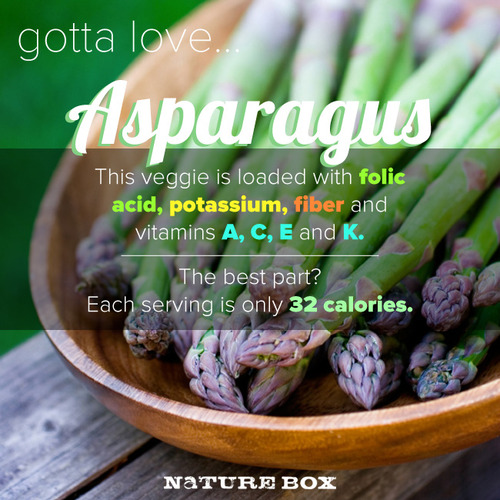 Is there any reason not to love asparagus? It's full-flavored and naturally crunchy. It even comes in a variety of colors: green, white and purple. Roast asparagus to bring out its earthiness or shave the raw stalks with a peeler to tone down the bitterness.
So, why else do we love this veggie?
It's loaded with nutrients. Asparagus is high in folic acid, potassium, fiber, and vitamins A, B, C, E and K. Folic acid, which helps the body regenerate cells, helps prevent heart disease and birth defects.
It's great diet food. Each 1 cup serving has only 32 calories and 1 g of fat.
It helps keep down water weight. Asparagus has high levels of asparagine, the amino acid which serves as a natural diuretic. Increased urination not only helps rid the body of excess salts but also helps prevent water retention.
It's easy to store. Wrap several stalks of asparagus in a damp paper towel and store in the fridge. Better yet, add the stalks to a tall glass and fill with about 1-1/2 inches of water (as you would flowers). To retain freshness, be sure to change the water each day!
It's easy to prepare. Add freshly squeezed lemon juice to raw asparagus and toss in a salad. Prefer these veggies cooked? Toss them in a dash of olive oil and roast in the oven at 400 degrees for 20 minutes. You can also throw them on the grill or sauté them on the stove with just a pinch of salt and pepper.
Any other reasons you think we missed? Feel free to sound off in the comments below!
Get more healthy ideas and delicious snacks by joining NatureBox. Enter coupon code NATURE for 25% off your first month subscription!