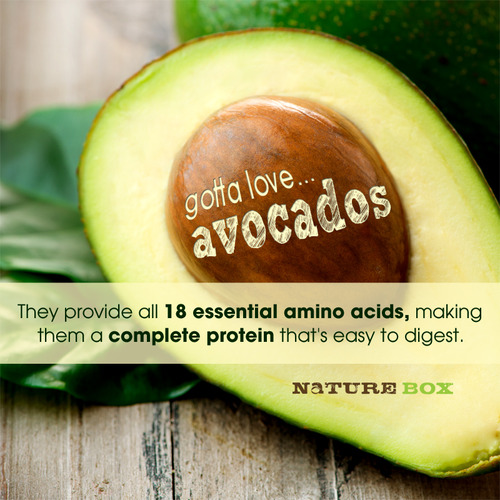 It's good for you. A cup of avocado is very low in cholesterol and sodium, and is also a great source of fiber, potassium, folate and vitamins C and K. And the sugar content? It's just 1 g per serving.
It's packed with good fat. Half an avocado has 15 grams of heart-healthy unsaturated fat, and only 2 grams saturated fat. Avocados are also rich in omega-3 fatty acids, polyunsaturated fats that help to stabilize blood pressure. What does this mean? These fats are lower in calories and will help you lower your cholesterol, decreasing your risk for heart disease
It can be eaten like a butter substitute. This doesn't mean you should swap out butter for avocado in your baked good recipes! But the next time you nosh on a piece of toast, spread some fresh mashed avocado instead of butter. It'll keep you fuller longer and it tastes great!
It's filling and cheap. Not only are avocados easy to find in stores year-round, but when they're in season – throughout the spring and summer- they usually cost about $1 each. They also contain all essential 18 amino acids, making them a complete protein that keeps you fuller longer and is easier for your body to digest!
It can be served savory or sweet. Cube or slice up some avocados and add to your favorite sandwiches, salads and even breakfast hashes! Better yet, stuff half an avocado with black beans, corn and chipotle sauce. Got a sweet tooth? Blend some avocado, lime juice and basil for a fresh and filling smoothie. If you want ice cream and have an ice cream maker, puree avocados, coconut milk and vanilla and follow the instructions on your machine!
Check out our avocado recipes for some tasty inspiration!
Get more healthy ideas and delicious snacks by joining NatureBox. Enter coupon code NATURE for 25% off your first month subscription!
Amanda really wants to help you cook delicious foods and sustain a healthier lifestyle. When she's not goofing around on Twitter she's probably noshing on the pile of NatureBox snacks at her desk.