by Amanda Natividad, NatureBox Editor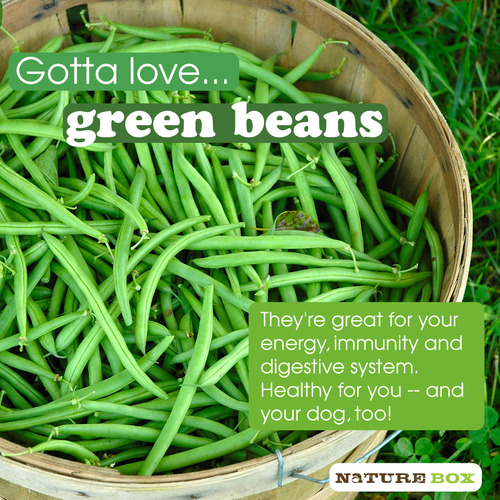 They're high in fiber, iron and calcium. Each one-cup serving offers four grams of protein, six percent of your suggested daily iron intake and four percent of your suggested daily calcium intake. The result? A vegetable that's great for your digestive system, muscle health and bone support.
They boost immunity. High in vitamins A and C, these little greens actually strengthen the white blood cells that fight infections in your body. Green beans are also high in B6 and K, making them great energy boosters and anti-inflammatory agents.
They're good for diabetics. Nonstarchy vegetables like green beans, broccoli and spinach are great for patients with diabetes because they're high in fiber and low in carbohydrates.
Your dog can eat them too. Your furry friend can benefit from a green bean diet if he needs to lose a few pounds. You can substitute a portion of your dog's usual food with green beans. Of course, before starting this diet, you should consult with your veterinarian first.
They're inexpensive and filling. While prices will vary from store to store, one cup of raw green beans will cost just over $1, says the USDA (via Excel doc). Since they're also a hardy vegetable with a crisp texture, they make for a filling ingredient.
Looking for ways to prepare green beans? Try this Mediterranean Farro Salad!
Get more healthy ideas and delicious snacks by joining NatureBox. Enter coupon code NATURE for 25% off your first month subscription!
Amanda really wants to help you cook delicious foods and sustain a healthier lifestyle. When she's not goofing around on Twitter she's probably noshing on the pile of NatureBox snacks at her desk.