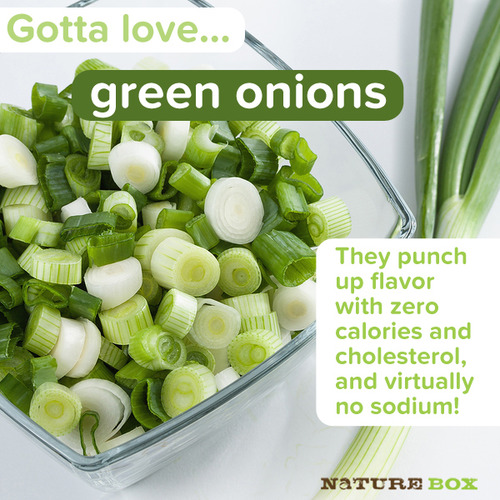 They have numerous health benefits. Green onions (a.k.a. scallions) have zero fat, zero calories and zero cholesterol! Better yet, they have virtually no sodium and carbohydrates. 1/4 cup of chopped green onion only has about 10 mg of sodium, which is less than 1%. 1 medium stalk has about 1 g carbohydrate. Scallions are also a great source of vitamin C and quercetin, which is known as an anti-inflammatory.
They're versatile and easy to prepare. You can think of scallions as the mild onion. They're flavorful enough to punch up recipes without adding sodium, while being mild enough that you can eat them raw. Plus, you can prepare them any way you want. Chop 'em up, slice them thinly on the bias, or even cut them into large chunks. Serve them raw, as a garnish or throw them into a stir fry. The possibilities are endless!
You can grow them at home. It's easier than you think. Add the white root end to a glass and cover halfway with water. Place it near a window and watch the green stalks start to grow overnight! Within 2-3 days you can slice off the green portion to use in your meal preparation. Just be sure to change the water every day!
Get more healthy ideas and delicious snacks by joining NatureBox. Sign up today to get 50% off your first box!