by Amanda Natividad, NatureBox Editor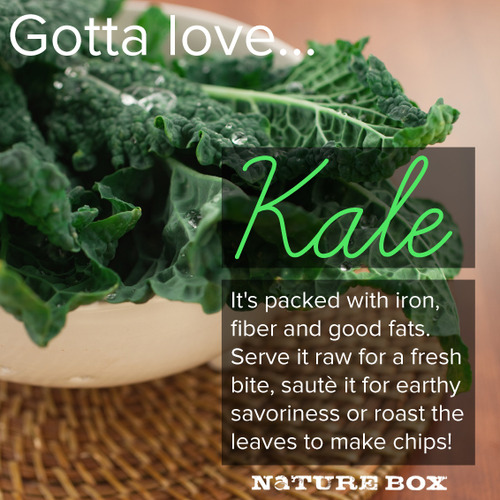 It's high in fiber, low in calories. Each 1-cup serving has just 36 calories, 5 grams of fiber and 0 grams of fat.
It has tons of nutrients. Per calorie, kale has more iron than beef. Iron is important for transferring oxygen to other parts of the body, for cell growth and for liver function. Kale is also high in vitamin K and antioxidants like carotenoids and flavonoids, which may help protect against cancers. It's also high in vitamins A and C, and calcium.
It has the good fat! With a healthy balance of omega-3 and omega-6 fatty acids, kale acts as an anti-inflammatory agent, fighting arthritis, autoimmune disorders and asthma.
It's sustainable. Although this winter crop thrives in cooler temperatures (even below 0 degrees!), kale can grow in most climates, so it's easy to find year-round!
It's versatile in the kitchen. Neutralize the bitterness of raw kale while keeping its fresh bite by rubbing it with lemon juice and olive oil. For an earthy, savory flavor, saute it on the stove. Craving chips? Toss kale leaves with olive oil and bake at 375 for 10 minutes until the edges crisp up.
Plus, check out our tasty kale recipes.
Get more healthy ideas and delicious snacks by joining NatureBox. Enter coupon code NATURE for 25% off your first month subscription!
Amanda really wants to help you cook delicious foods and sustain a healthier lifestyle. When she's not goofing around on Twitter she's probably noshing on the pile of NatureBox snacks at her desk.