by Amanda Natividad, NatureBox Editor
We love adding fresh lemons – both the zest and the juice – to our recipes whenever we can! This citrus fruit has tons of health and practical benefits. Read on to find out how useful lemons are…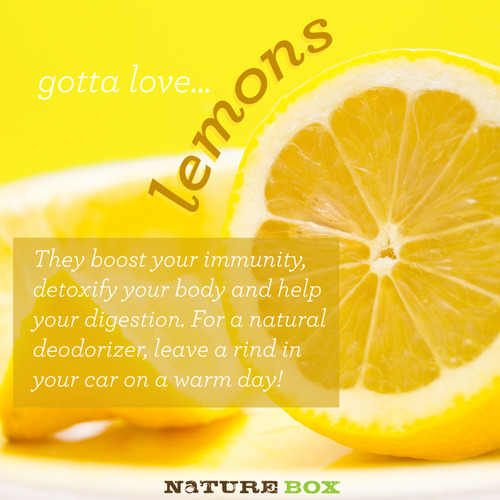 It cleans your body. Lemon helps the liver dump toxins by stimulating its natural enzymes. The citric acid content also prevents kidney stones and reduces nausea (by reducing gastric acidity). 
It cleans your house. Try sprinkling baking soda on the cut section of the lemon and scrubbing non-porous surfaces like dishes and counter tops. Lemon juice can cause some bleaching (like on clothes or wood furniture) so be sure you rinse and dry the surfaces when you're done! You can also add a teaspoon of lemon juice to your dish washing liquid to increase grease-cutting power, or add the juice to tomato-stained food-storage containers for thorough cleaning.
It boosts your immunity and hydration. Its high vitamin C content helps boost the immune system, and its natural electrolytes, such as potassium, calcium and magnesium, help hydrate the body and regulate its functioning.
It's a natural deodorizer. Simply run a chunk of the rind through the garbage disposal, or leave it in your car on a warm day.
Lemon water is good for you. Fresh lemons squeezed into warm water helps digestion because it causes increased peristalsis of the colon, which aids in bowel movement. Lemon juice with hot water and a dash of honey also helps ease a sore throat.
Plus, don't forget the zest! Lemon zest packs a lot of fresh zing. Add it to lemon vinaigrettes and baked goods for a fresh, almost floral, flavor.
Inspired? Try our tasty lemon recipes.
Get more healthy ideas and delicious snacks by joining NatureBox. Enter coupon code NATURE for 25% off your first month subscription!
Amanda really wants to help you cook delicious foods and sustain a healthier lifestyle. When she's not goofing around on Twitter she's probably noshing on the pile of NatureBox snacks at her desk.