There are so many reasons to love mangoes! They're sweet, juicy, easy to eat and high in nutrients and antioxidants. What's your favorite way to eat this tropical fruit?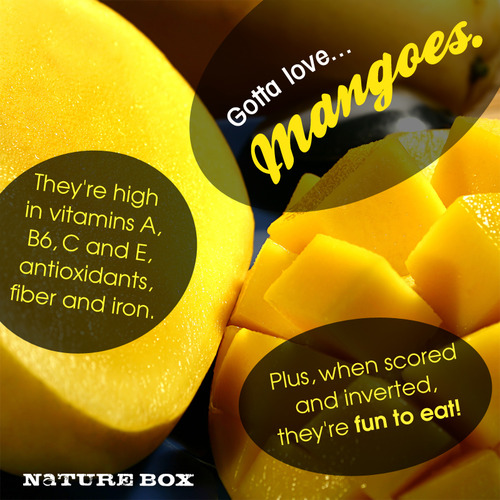 They're high in nutrients. Mangoes are high in fiber, vitamins A, B6, C and E, as well as phytochemicals like quercetin, an anti-inflammatory.
They combat hypertension and anemia. Mineral-rich mangoes are a great source of potassium and magnesium, which is ideal for people with hypertension. This fruit is also high in iron, which good for anemic patients and pregnant women.
They're easy to store. You can store ripe mangoes – which are slightly soft to the touch – in the refrigerator for about 2 weeks. If you buy them unripe, store them in a paper bag at room temperature or slightly warmer and they'll ripen within a few days.
They're fun to eat. Mangos have a very large, flat seed in the middle. Simply slice the mango lengthwise along the flat side next to the seed on each side. Slice cross-hatch marks through the flesh (not the skin), invert and eat! If you cook with dried mangoes, you can re-hydrate them in warm water for about four hours before adding them to your recipe.
They can be added to a skin care regimen. Proponents of using mango to fight acne and rejuvenate skin apply mango pulp to their face for 10 minutes before washing it off.
Wanna get cookin'? Check out our delicious fruit recipes!
Get more healthy ideas and delicious snacks by joining NatureBox. Sign up today to get 50% off your first box!