Meatless Monday is comforting and creamy with a pasta salad dressed with Greek yogurt and tossed with tomatoes, zucchini and lemon zest!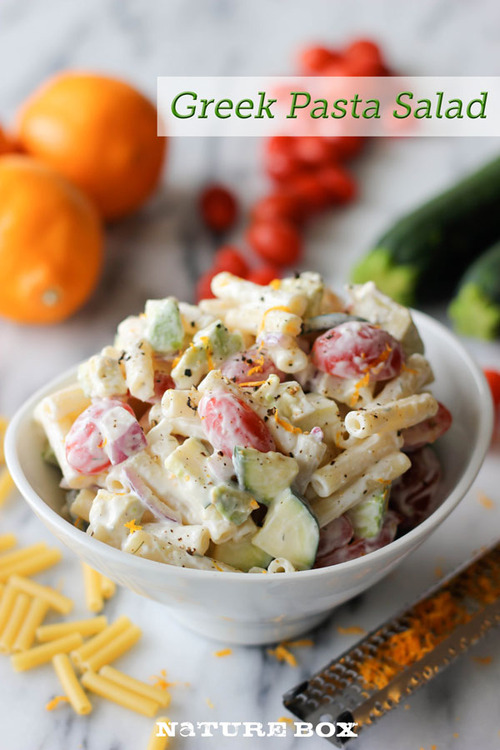 Serves: 4
Prep time: 15 minutes
Cook time: 10 minutes
Ingredients:
8 ounces piccolini
1 cup cherry tomatoes, halved
1 zucchini, diced
1/2 red onion, diced
1/2 cup Greek yogurt
1/4 cup light mayonnaise
2 tablespoons vinegar
1 teaspoon Meyer lemon zest
1/2 teaspoon garlic powder
1/4 teaspoon dill
Kosher salt
Freshly ground black pepper
Directions:
1. In a large pot of boiling salted water, cook pasta according to package instructions. Drain and set aside to cool.
2. In a large bowl, combine pasta, tomatoes, zucchini and onion.
3. In a large glass measuring cup or another bowl, whisk together Greek yogurt, mayonnaise, vinegar, lemon zest, garlic powder, dill, salt and pepper, to taste. Pour mixture over pasta mixture and stir using a rubber spatula until well combined. Cover and place in the refrigerator for at least one hour. Serve cold.
Get more healthy ideas and delicious snacks by joining NatureBox. Enter coupon code NATURE for 25% off your first month subscription!
Chung-Ah, the author behind Damn Delicious, loves to take simple ingredients and transform them into sophisticated and elegant meals.