If there's one thing I can't skimp on – particularly when I'm trying to cut back on indulgent foods – it's party dip. More than that, it's ranch dressing. Here, the tangy and savory sauce is lightened up and made more protein-packed with low fat Greek yogurt, just a dash of low fat buttermilk, and fresh garlic and herbs.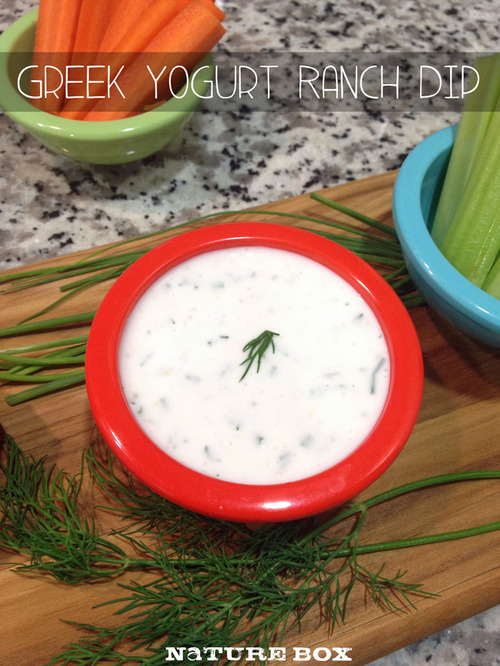 Ingredients:
1 cup low fat Greek yogurt
3 tablespoons low fat buttermilk
2 garlic cloves, finely chopped
2 teaspoons white vinegar
1 tablespoon finely chopped fresh dill, finely chopped (or about 3 sprigs)
1 tablespoon finely chopped chives
1/2 teaspoon kosher salt, or to taste
1/4 teaspoon freshly ground black pepper, or to taste
Carrots, peeled and sliced into sticks (optional, for serving)
Celery, sliced into sticks (optional, for serving)
Directions:
1. Mix all ingredients together. Season to taste. For a thinner dip or dressing, add additional teaspoons of buttermilk, as needed. Serve with crudites or mixed green salad!
Get more healthy ideas and delicious snacks by joining NatureBox. Enter coupon code NATURE for 25% off your first month subscription!
Amanda really wants to help you cook delicious foods and sustain a healthier lifestyle. When she's not goofing around on Twitter she's probably noshing on the pile of NatureBox snacks at her desk.