Green Eggs and Ham doesn't have to just exist in your favorite childhood books! We made this recipe in honor of Dr. Seuss' birthday. Freshly sliced prosciutto is served on English muffins and topped with eggs and pesto sauce.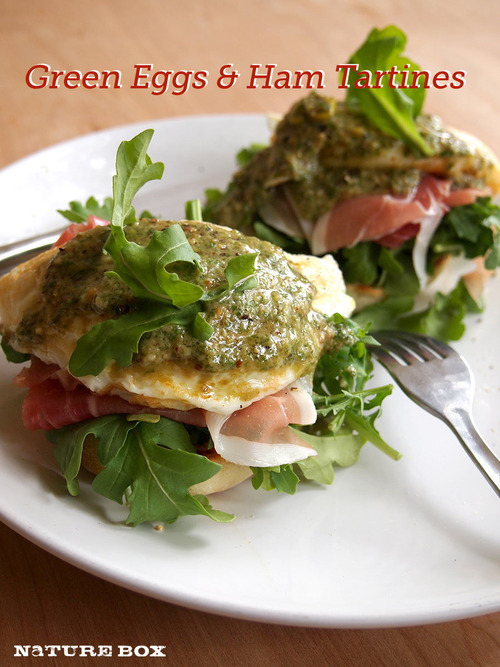 Makes: 4 tartines
Prep time: 10 minutes
Cook time: 5 minutes
Ingredients:
2 English muffins, split in halves
4 eggs
4 slices prosciutto
2 cups arugula
For the almond pesto sauce:
1 clove garlic
1/3 cup olive oil
1 cup basil leaves
1/4 cup grated parmesan cheese
2 tablespoons water
Kosher alt
Freshly ground black pepper
Directions:
1. In a food processor, blend almonds and garlic until the mixture resembles coarse sand. Add oil, basil, parmesan and water and blend until it becomes a sauce. Season with salt and black pepper to taste.
2. Toast the English muffins and fry the eggs to your desired doneness. Set aside.
3. Toss the arugula with about 2 tablespoons of pesto (per muffin). Set aside.
4. To assemble, top each of the toasted English muffins with dressed arugula, a slice of prosciutto and a fry egg. Spoon more pesto on top and enjoy!
Get more healthy ideas and delicious snacks by joining NatureBox. Sign up today to get 50% off your first box!